Science, Technology, Engineering, Math, and the Arts in New Mexico
STEAM NM
The mission of STEAM NM is to raise capacity for STEAM education throughout the state of New Mexico, providing opportunities for students and community members with a focus on higher education.
STEAM is an approach to learning that uses Science, Technology, Engineering, the Arts and Mathematics to guide student inquiry, dialogue, and critical thinking. STEAM investigates the same concepts as STEM, but through the inquiry and problem-based learning used in the arts, including humanities, language arts, dance, drama, music, visual arts, design and new media.
Based at the University of New Mexico College of Fine Arts, STEAM NM has branches throughout the state
With seed funding from Americorps/VISTA, STEAM NM has expanded across interdisciplinary units within the University, and to several educational and community organizations in the City of Albuquerque and state of New Mexico, with a focus along the Northern Cultural Corridor including Santa Fe and Taos.
Partners Within UNM
UNM Art & Ecology • Geography • English • Sustainability Studies • Chicano Studies • Lobo Gardens Club • Food Justice Initiative • Garden's Edge • Student Landscape Architecture club • Recycling Department • WildFriends • HESO • IEEE (Institute of Electronic and Electrical engineers) • Lobo Chemistry Club (LCC) • South Valley Academy • Women in Science group (WIS) • Society for the Advancement of Chicanos and Native Americans (SACNAS) • Latino Medical Student Association (LMSA) • Pre-Veterinary Society • National Society of Black Engineers (NSBE) • Society of Women Engineers (SWE) • Tamarind Institute
Partners Outside of UNM
Cafe Scientifique • FSAE • Gardens Edge/Amyo Farms • USFWS • STEM Santa Fe • Santa Fe Institute • Santa Fe Art Institute • SFCC • State of NM Environment Dept • New Mexico Western University • Plants of the SW • Girl Scouts • APS schools • FatPipeABQ • NM Tech Council • Young Leaders of America Initiative • Global Ties ABQ • KOB/Channel 4 • Girl Develop It-ABQ • Real Time Solutions • Adult Education and Career Center at UNM Taos • ATLAS/CERN • Ballet Taos • Taos Charter School • Taos Land Trust • Kit Carson Electric Company • Taos Pueblo Day School • LOR Foundation/Strong at Heart • Quarknet National • Sante Fe Council on International Relations • Taos County Economic Development Corporation • LANL • New Mexico Consortium • SOMOS Literary Society of Taos • Santa Fe Opera Education Program • Taos Public Library • Town of Taos • LASER International
Benefits for Students
Provides higher education and on the job training in STEAM outreach
Provides opportunities for resume-building in STEAM-related skills
Provides advanced STEAM-related research opportunities
Brings STEAM experts locally, nationally and internationally to present and inspire students
Provides workshops for youth in STEAM
Facilitate positive experiences and heightened self-esteem
Benefits to the Community
• Provide opportunities for collaboration between community members and the University
• Contribute to UNM's role as an international leader and innovator in STEAM education
• Build partnerships between international STEAM professionals and communities
• Build supportive relationships among faculty, staff and students across UNM, CNM and local communities
• Recognize and celebrate the cultural diversity of local and regional communities
• Provide new and meaningful opportunities for artists and community members to contribute to society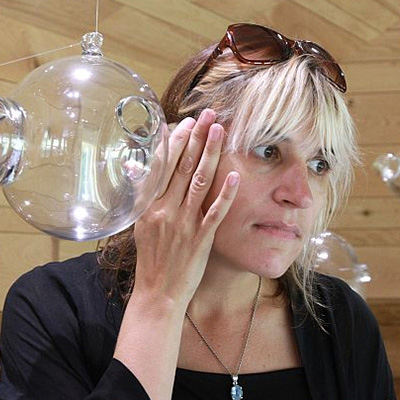 From the Director
"It has been very important to us to work throughout the state, and we have gotten better at collaboration, communication and coordination, for example between Taos and Albuquerque. Our biggest challenge has been our rapid growth. Over the past five years we have expanded from 5 to 20 full time VISTAs. Even before the expansion of the number of VISTAs, our capacity for serving the community was greatly expanded due to effective recruiting and partnership development. We have been fortunate to find and hire most of our VISTAs from New Mexico and our VISTAs are as diverse as our communities.
Through this project and many others, our VISTAs learned to use spreadsheets to catalogue. They've learned about metadata and digital information storage strategies. Our VISTAs developed skills in social media marketing, design, outreach, digital image processing, digital video and audio editing. Our VISTAs have not only learned the digital fabrication tools and equipment at maker spaces, but have developed training materials for community members using the technology. "

—Andrea Polli, Director, STEAM NM
|
"Introducing students to Virtual Reality and giving them the chance to experience emerging technology. These students come from different backgrounds each with different majors then architecture but they were all interested in Virtual Reality and had a good time learning about the technology."
Quotes From Our VISTAS
|
"It's been a great opportunity for me to focus on what I feel passionate about, to connect with others who are doing similar work in their own circles, and hopefully to create a broader impact on educational initiatives in New Mexico. Doing the Discovery Festival and interacting directly with students reminded me of what all the organizational, development and capacity building work is all about. A large group of excited and engaged kids wanting to learn more is a great motivator to keep up the work!"
Quotes From Our VISTAS
|
"I am so excited about our new initiative to bring in 'community outreach coordinators' to help us reach marginalized sectors of our community. Our discussion session to develop the culturally responsive questions bonded our relationship and we are all very excited about working together more."
Quotes From Our VISTAS
|
"Working with the Santa Fe Council on International Relations was truly an amazing experience, one that really stayed with me weeks after the initial visit. For the first time I was able to merge what I do with other programs that I collaborate with, one being the Taos County Economic Development Corporation."
Quotes From Our VISTAS