The Department of
Theatre & Dance
We provide a broad, liberal arts education and train students in the fields of dance, theatre, and design & technology for performance
The Department of Theatre and Dance cultivates critical thinking and analysis, and helps students develop tools for creative expression.
For emerging artists and specialists, we provide tools to build careers in their chosen field and networks to the professional world, both nationally and internationally. We serve the community through high quality performance events that showcase student and faculty artistic work and serve as a laboratory for applying skills learned in the classroom and studio.

This year we invite you into our home: the theatre.
Warmth, comfort, safety, belonging, strength – home can symbolize all of these things. We invite you to investigate these essential parts of life.
During this season we explore the places, memories, and connections that shape our lives. You will see stories of acceptance and inclusion, failures and triumphs, and characters who have lost their way, who need to find what home is again.
Welcome to the UNM Theatre and Dance 2023-2024 Production Season!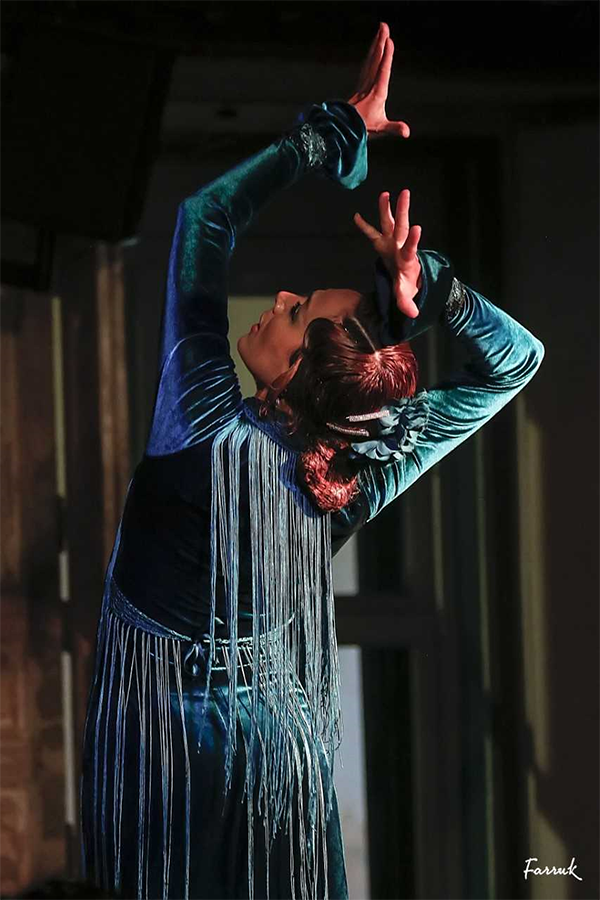 We are proud to host the Visiting Professor in Flamenco
This visiting line brings the most current and established Flamenco artists and scholars to teach classes. The vibrancy and vitality of this artist residency in Flamenco is unique in the world and provides a springboard for these visiting artists and scholars to engage in the global dialogue surrounding Flamenco history, performance, and creative process.
International Collaboration
Live Performance takes the Edinburgh Fringe Festival in Edinburgh, Scotland as its classroom. The course immerses students in the most cutting-edge alternative theatre being created today
International Collaboration
Every other spring term our dance program sponsors students to travel to Soelden, Austria, to perform in the largest contemporary theater piece in the world, Hannibal
International Collaboration
International Exchange with the Asian Theatre Education Centre
The Department of Theatre and Dance participates in the Asian Theatre Education Centre-ATEC, bringing students to perform a theater work from the department production season at the festival every other year. The Department of Theatre and Dance at UNM is the only member school from the United States invited to perform in this prestigious festival, where multiple and varied institutions throughout the Asian arena present works for the stage, and students also engage in dialogue on international perspectives in theater. For more information on the ATEC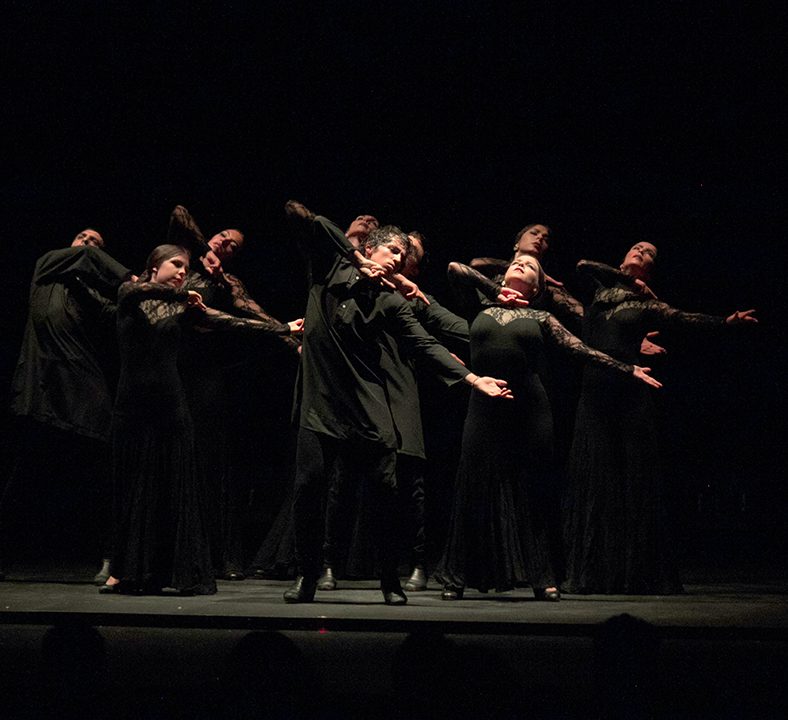 We are proud of our Partnerships
Yjastros in Residence at UNM 
Founded in 1999, Yjastros: The American Flamenco Repertory Company is a project of the National Institute of Flamenco under the artistic direction of Joaquin Encinias and is a unique performance entity that joins the repertory format of large dance companies and choreography with the authentic idiom of Flamenco. Currently, in residence in the dance program at UNM, Yjastros has had the opportunity to access choreography created through the Visiting Professor Line in Flamenco, enhancing their archive of choreographic masterworks. Yjastros respectfully acknowledges work of the past and believes that the creation of new repertory works allows Flamenco culture to proliferate in the contemporary postmodern era. 
©Photo by Pat Berrett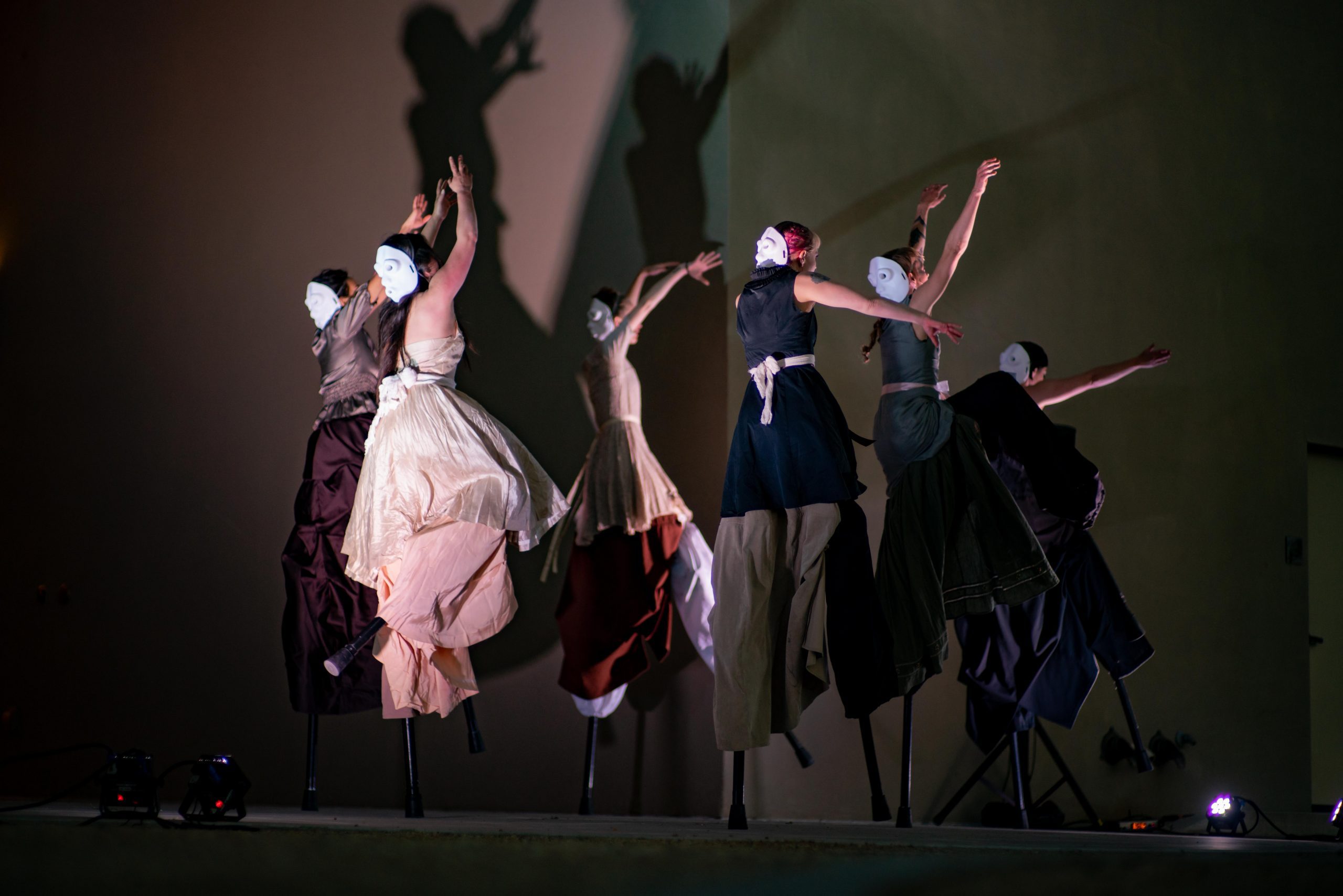 The Revolutions International Theatre Festival
The Department of Theatre and Dance has a partnership with The Revolutions International Theatre Festival, a global performing arts festival founded in 2001. The festival focuses on theatrical work not routinely produced in the United States, work from underrepresented voices, and productions from countries and cultures stigmatized by misinformation or lack of contact and context. The University of New Mexico and the Revolutions Festival partner each year to bring workshops, gatherings, collaborations, and performances to the department and the community. Students have direct access to international artists with opportunities for training and knowledge sharing as well as performance and designing roles. With a wide range of performance approaches such as political theatre from Russia, circus and street theatre from Colombia, and Indigenous dance from Uganda, Revolutions is a unique and inviting way for students to expand their knowledge of performance and create global connections.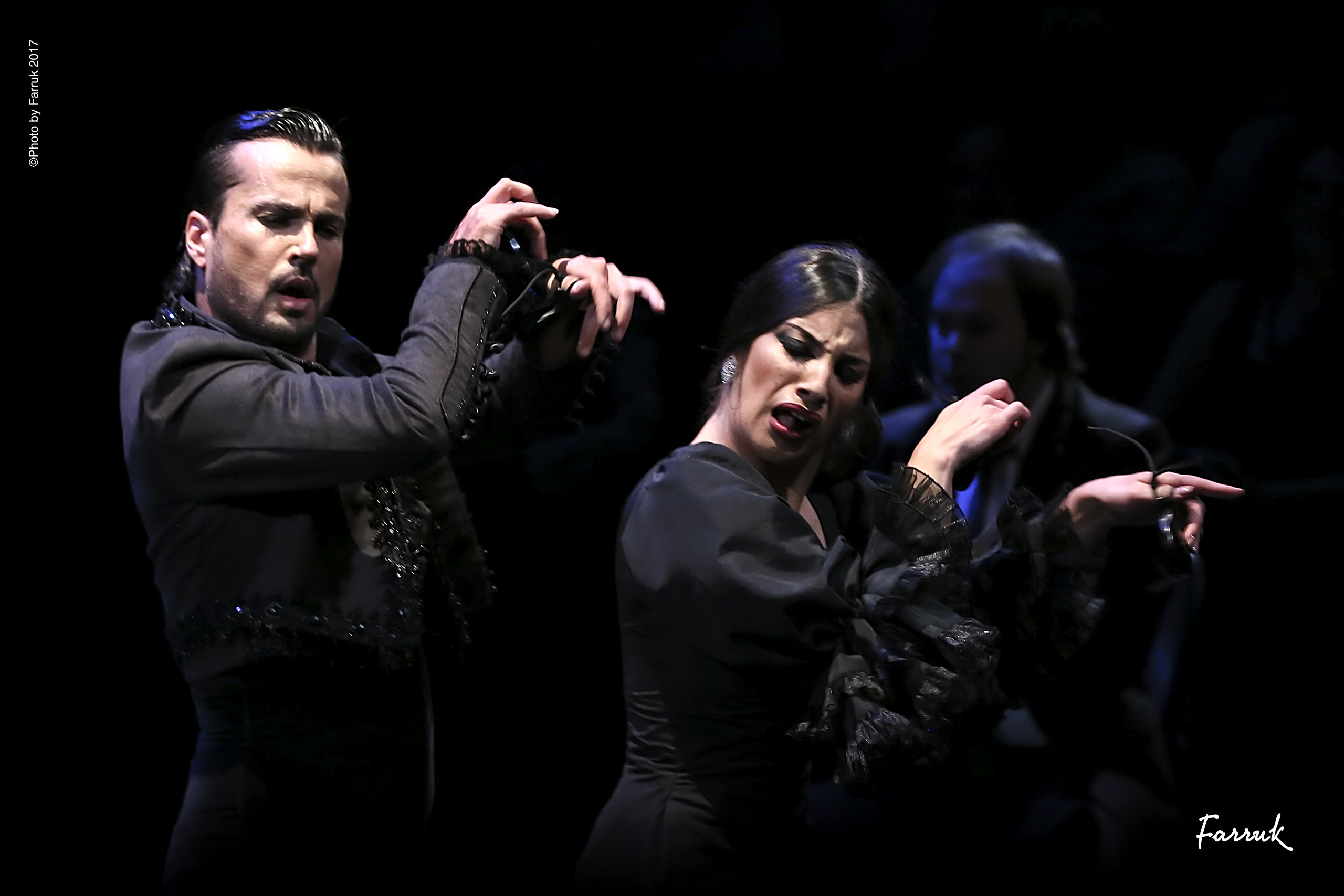 Festival Flamenco Internacional de Alburquerque
The Department of Theatre and Dance has been a partner of the non-profit National Institute of Flamenco for decades. In its role as co-presenter of Festival Flamenco Alburquerque, the Department has been pivotal to the success of this arts and culture event since the Festival's beginning. Established in 1987 by Professor Eva Encinias, the first edition of the Festival celebrated the 50th anniversary of the College of Fine Arts. Since then, the Festival has grown to be one of the largest and most respected flamenco events outside of Spain. Festival Flamenco Alburquerque features over 50 prominent flamenco artists from Spain, presenting performances, workshops, youth programming, and a biennial conference in flamenco history and research. Students, aficionados, and patrons of the arts are given an unparalleled experience during this invaluable cultural and educational event. The Festival would not be possible without the important partnership between the University of New Mexico and the National Institute of Flamenco.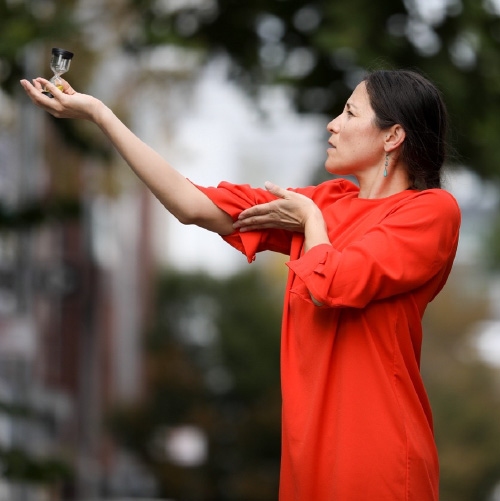 Meet our Alumni
Lisa Nevada
Since graduating in 2015, lisa has pursued and initiated performance & education experiences on her behalf and with communities in Nuevoméxico, Lenape territory (Brooklyn, NY), and Tiohtià:ke (Montréal, QC).  Alongside UNM Alums, Jacqueline García and Kelsey Paschich, the trio instigated SHIFT | DANCE (Albuquerque, NM), a performance platform dedicated to giving voice to experimental and contemporary dance in Albuquerque.  SHIFT | DANCE produced and hosted performance & education opportunities and instituted SHIFT DANCE | FESTIVAL which featured local, national, and international artists.
In early 2019, lisa made the move to Brooklyn, NY where she continues to reside when not traveling for projects or teaching.  While lisa has experienced many notable highlights since 2015, it is important to acknowledge the relationships she has maintained and cultivated with individuals and communities that have directly impacted her ability to currently thrive as an independent dance artist.  Without these relationships, she would not have been able to pursue her passion as a performer & educator.  Recently, lisa has received organizational support that has allowed her current research and project to flourish.  These organizations include Ucross Foundation, Wyoming (2021), Monson Arts, Maine (2022), Shooting Gallery Performance Series, Vancouver, BC (2022), Parbleux Inception Residency, Montréal, QC (2022).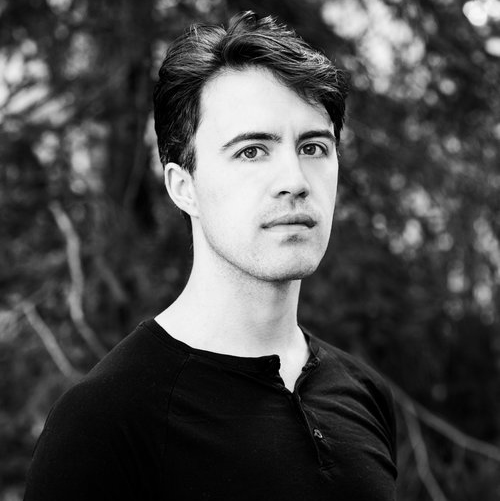 Meet our Alumni
Kevin Clark
Kevin Clark is an arts creator, teacher, and performer based in NYC. Originally a world competitor and teacher for Lindy hop and vernacular jazz, he expanded to join the concert dance world.
He has choreographed and performed for the Santa Fe Opera, Tisch, worked as the choreographer-in-residence for the Gallatin School, Jacobs pillow, Arcos Dance, various commercials and films, TheTank NYC, NYC10, and in works for Lar Lubovitch, Take Dance, Battleworks, and Batsheva Dance company.
He gained his BFA with distinction from the Elizabeth Waters Center for Dance at the University of New Mexico in 2014, and his company, Soluq Dance Theater, had its premiere work in 2015 in NYC, and has continued creating since.
As the Director of Soluq Dance Theater, Kevin firmly believes in the cooperative spirit, and encouraging and employing not only the performative talents of company dancers, but their artist minds and sensibilities, and demanding a fuller, more human presence both in the studio and on the stage. The richest work comes when artists are most free.
Watch a video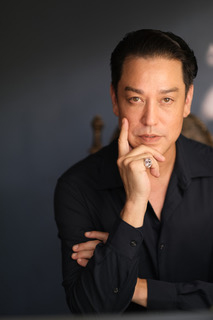 Dana Tai Soon Burgess
Dana Tai Soon Burgess is a leading American choreographer and cultural figure. The Washington Post Pulitzer Prize winning dance critic Sarah Kaufman writes of Burgess, "Not only a Washington prize, but a national dance treasure." The Smithsonian named Burgess its first ever choreographer-in-residence in 2016. He is based at the National Portrait Gallery where he explores the confluence of dance and portraiture. Burgess has performed, taught, and choreographed around the world. He founded the Dana Tai Soon Burgess Dance Company (DTSBDC.org) in 1992. It is the preeminent modern dance company in the Washington, D.C. region. He is the host of slantpodcast.com which explores the lives and creative processes of prominent Asian American artists. Three portraits of Burgess reside in the permanent collection of the Smithsonian.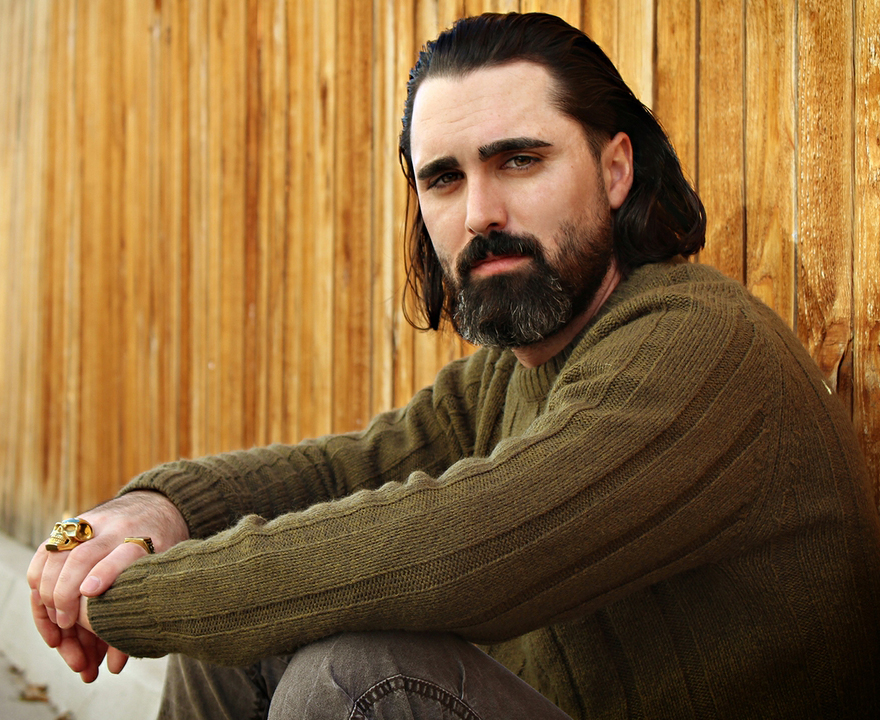 Aniello Fontano
Aniello Fontano is an award winning playwright, screenwriter, and educator originally from Little Italy, Chicago. After receiving his BA in Directing and Design from the University of Illinois at Chicago, he earned his MFA in Dramatic Writing at New Mexico's flagship university, UNM, on teaching and graduate assistantships in Dramatic Writing and Women's Studies. Currently, he is writing a new work for the Lee Strasberg Institute's Clifford Odets Ensemble Commission that will premiere December 2023. Prior to the ongoing Writers Guild of America strike, he was writing for a show in development at Netflix and developing a project with writer/ producer christopher oscar peña (Insecure, how to make an American Son, Awe/Struck) and actor/director Ty Molbak (Immortality, Next Exit, Who's Afraid of Virginia Woolf?). Beyond his work as a writer, he is a Board Member of Prop Theater in Chicago, once Associate Board Events Chairman and now volunteer with BUILD Chicago (a nationally respected gang intervention, violence prevention, and youth development organization based on Chicago's West Side), an Art Department Lead Person in IATSE Chicago Local 476, a Writers Room Assistant in IATSE Los Angeles Local 871, and a member of SAG-AFTRA. He continues to be mentored by director Jude Weng (Only Murders in the Building, The Good Place, Twisted Metal).
ARTICLES
Broadway World
American Theater
Watch a video
24HourPlays – Aniello Fontano and Mallory Jansen – "before i rip my fucking heart out | or some babies are ugly"24HourPlays – Aniello Fontano and Miles G. Jackson – "a start."24HourPlays – Aniello Fontano and Bobby Moreno – "i wanna go wild | or fucking cake eaters"An excerpt from "summertime | an interlude" – UNM Spring 2020 – Directed by Erik EhnA second excerpt from "summertime | an interlude" – UNM Spring 2020 – Directed by Erik EhnTrailer for "summertime | a virtual production" – Kennedy Center 2021 – Directed by Erik Ehn –Small Hours Festival – Aniello Fontano and Richard Juarez – "sons or | tu papi te ama"Small Hours Festival – Aniello Fontano and Max Thomas – "that's funny"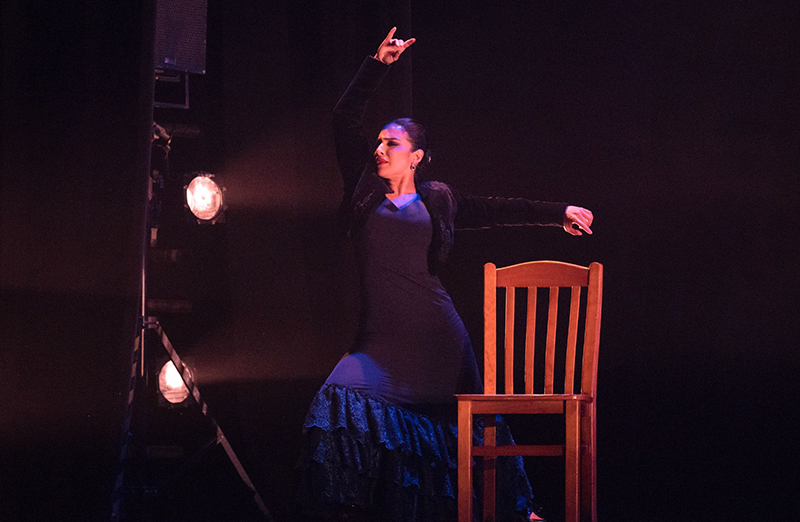 Ileana Gomez
Illeana is a flamenco dancer from the Unites States residing in Madrid, Spain. Illeana received her MFA from the University of NM in 2010 in performance and choreography while also pursuing vigorous study at the Conservatory of Flamenco (Joaquin Encinias).
Since that time, she has worked with various US. and Spanish performance companies and has been on several national tours performing in such theaters as the Joyce in NY, as well participating in dance festivals in the US and Spain such as the Festival at Jacob's Pillow, as well as Suma Flamenca (Madrid), and has shared the stage with an array of artists in the flamenco world such as Juana La del Pipa, Carmen Ledesma,  Alejandro Granados, Pastora Galván among others.
Currently, Illeana teaches dance,  and works in the tablaos or "flamenco theaters" of Madrid. In 2018 she was prized in the "Concurso Nacional de Baile por Alegrías". More recently,  she has participated as a soloist in shows such  "Bailaoras" along side well known artists, Carmen "la Talegona," and Monica Fernandez; "Prendidos" by Alfonso Losa (USA), "La Vida Misma" Noe Barroso company; and most recently "La Tarara si, el alma del Flamenco," along side Lucky losada, Ivan Losada, and Monica Fernandez, amongst others.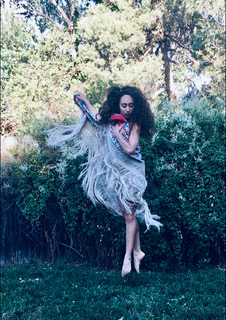 Justice Miles
Justice Miles is a biracial independent choreographer, dance artist, and scholar. Miles received her MFA in Choreography/Dance from the University of New Mexico and her BA in Dance from Colorado College. Miles has also had the opportunity for additional summer study at Festival Flamenco Albuquerque and Ballet Hispánico's Choreolab summer program in New York City.
Miles' choreography includes: Floral Tea, a floral dance film created for the Art Gym Denver Create Award Residency which was also selected to be virtually streamed in ModArts Dance Collective's Move to Change Festival, Ink on Cotton, which was a dream-like exploration of African American history incorporating elements of contemporary dance and flamenco (excerpts performed at the Fashion Institute in NYC for Meira Goldberg's conference The Body Questions Celebrating Flamenco's Tangled Roots, and Aceite en Agua, excerpt selected with thirteen other pieces for the North West regional gala at the American College Dance Festival in Laramie, Wyoming.
In regards to research, Miles presented her dissertation research at the international bilingual conference Indígenas, africanos, roma y europeos: Ritmos transátlanicos en música, canto y baile in Veracruz, Mexico. This resulted in the publication of Miles' first academic article "The Modern Synthesis of Josephine Baker and Carmen Amaya" with the journal Música Oral de Sur, edited by Raquel Paraíso, Meira Goldberg, Jessica Gotffried and Antoni Pizá. Miles has had the opportunity to present this research for the International Association of Blacks in Dance Virtual Front Row for Member Appreciation week and the 8th Biennial New Perspectives in Flamenco History and Research Symposium. Miles seeks to create spaces of inclusivity and acceptance to honor and uplift historically marginalized voices.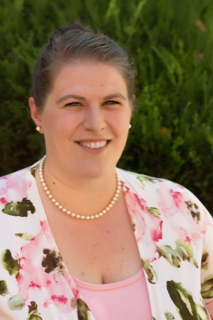 Sarah Williams Gonzales
Sarah Williams Gonzales is a "dancing historian," a dance scholar, and a dance educator. In 2012, Sarah graduated with distinction from the University of New Mexico with a Master of Arts in Theatre and Dance with a concentration in Dance History and Criticism. Her Master's thesis, "Noisy Feet: The Forgotten Click of American Toe-Tap, 1925 – 1935," drew extensively from primary source materials to explore early 20th century American ballet and Vaudevillian novelty dance.
Since graduation from UNM, Sarah has worked to advance the field of dance through the daily teaching of technique classes, developing dance curricula, and pursuing dance history research. Sarah is currently the Pre-Professional Education Director of Keshet Dance and Center for the Arts, in charge of the Keshet's Pre-Professional Program (KP3), the Grant Administrator for the National Institute of Flamenco, and an adjunct faculty member within the UNM Dance Program. Sarah has been awarded two Project Plié scholarships from the American Ballet Theatre and gained certification in ABT® National Training Curriculum from Pre-Primary through Level 5. She is certified in Elementary Labanotation from the Dance Notation Bureau and has completed the Ballet For All Kids: Schlachte Method training. Sarah has presented research at both Dance Studies Association and National Dance Education Organization conferences.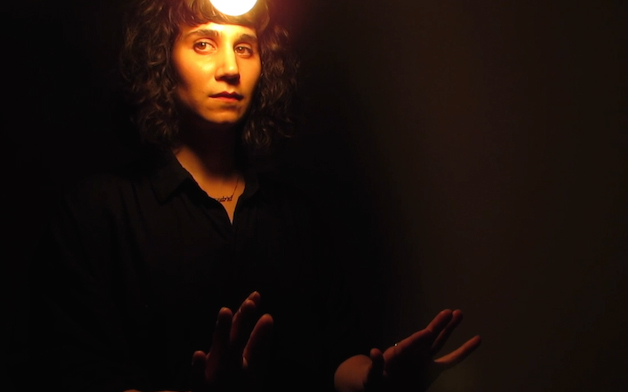 Allie Hankins
Allie Hankins is a dancer, performer, and multidisciplinary artist currently residing on the unceded lands of Cowlitz, Confederated Tribes of Grand Ronde, Clackamas, and many other tribes, also known as Portland, Oregon, who makes works that toy with the destabilization of persona through uncanny physicality, layered imagery, and a biting wit all while trying to suppress her contentious eagerness to please.
She is an inaugural resident artist and current steward of FLOCK Dance Center, a studio and creative home to Portland's experimental dance artists, which was founded by Tahni Holt in 2013. In 2014, she co-founded Physical Education, a queer performance research cooperative, with Lu Yim, keyon gaskin, and Takahiro Yamamoto. Physical Education hosts reading groups and lectures, curates festivals, and teaches workshops nationally. Allie has danced for choreographers nationally and internationally, including Milka Djordjevich (LA), Morgan Thorson (Minneapolis), Ruairi Donovan (Cork, Ireland), Julien Previeux (Paris), and Linda Austin (Portland).
She has been an Artist in Residence at Headlands Center for the Arts, the Djerassi Resident Artist Program, the Robert Rauschenberg Residency, Caldera, the Wassaic Project, and Ucross. She's currently reading Zany, Cute, Interesting by Sianne Ngai, Calamities and the Ravika Trilogy by Renee Gladman, and all the Ali Smith she can get her hands on. She loves book recommendations. You can learn more about Allie and her work at alliehankins.com.
Watch a video
Now Then: A Prologue, 2016 https://vimeo.com/177416486
Excerpts from When We, 2017 https://vimeo.com/273133619
Excerpts from scorpio 33/33, a dance film, 2017 https://vimeo.com/259921592
Excepts from /ə ˈsɪŋgəl pɪŋk klaʊd/ , 2019 https://vimeo.com/349469665
Vimeo page: https://vimeo.com/user4752333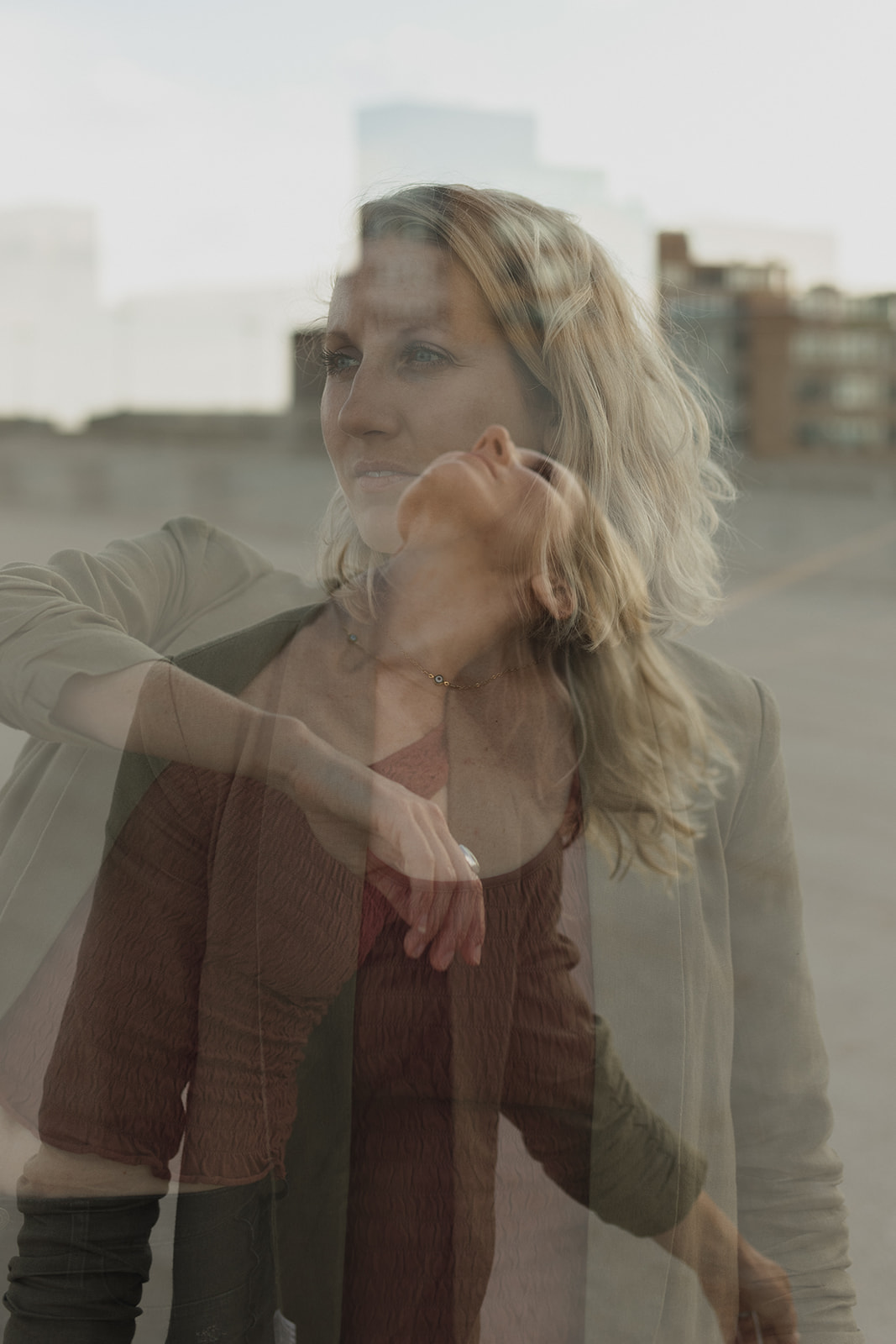 Kelsey Paschich
Kelsey Paschich is a multi-faceted dance artist originally from Albuquerque, New Mexico and currently based in Kalamazoo, MI. She is an Assistant Professor of Dance at Western Michigan University. Paschich holds an MFA in Dance from the University of New Mexico and she holds a BFA in Dance from Point Park University. She is 1 of 12 Countertechnique® Certified Teachers in the USA and 44 globally. Her international performance career spans 20 years and multiple genres. Paschich has performed extensively with: The Moscow State Classical Ballet, DCDC2, Thodos Dance Chicago, River North Chicago Dance Company, the Chicago Symphony Orchestra, the Interdansa Dance Festival, Keshet Dance Company, ARCOS Dance, the Edinburgh Fringe Festival, and the Hannibal Project in Solden, Austria. She is the Founder and Artistic Director of project whitewall where she experiments and creates live digital work that explores humanness, the moving body, and its relationship to technology. Paschich's multimedia work includes: screendance, dance for film, and choreographic installations. Most recently she has been experimenting and developing work with motion capture technology.
Her digital work has been screened in 11 festivals in Germany, Portugal, Turkey and across the United States. Paschich was selected as 1 of 4 international Distant Digital Dance Makers for Tanzmit dem Tiger 2021 + 2022 (Ulm, Germany), she was 1 of 4 international recipients of the Creative Living for Dancers Award 2021 (Brussels, Belgium), she was also selected for the Dancing Lab: Art Speaks 2.0 artistic residency at the National Center for Choreography at the University of Akron (NCCAkron) in 2021. Paschich was an invited speaker at The 5th International Conference on Arts and Design Education 2022 (Bandung, Indonesia), The Society of Korean Dance Studies International Symposium 2021 (Seoul, Korea), and was the recipient of the National Dizzy Feet Foundation Gene Kelly Legacy Scholarship in 2016. Paschich's choreographic and performative experience continues to inform her pedagogical methodology in providing a progressive and holistic education that cultivates the next generation of artists.
Theatre & Dance Events
We produce a mainstage series of five events: three plays, a faculty-choreographed dance concert and the Linnell Festival of New Plays at UNM. In addition to the mainstage series, we support the Theatre X series of student produced plays as well as student dance showcases and outreach tours.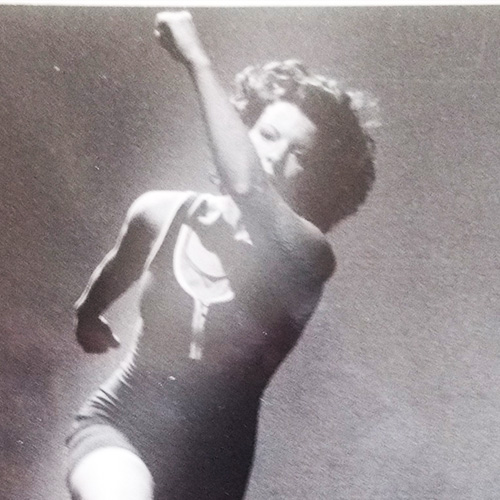 From the Chair
As the Chair of this vibrant academic and artistic department, I am proud to be a colleague of the nationally and internationally renowned faculty and a professor working with diverse, talented, and multifaceted students. Throughout each academic year our production season creates sophisticated and ambitious performances that challenge students in the undergraduate and graduate degree programs; design, dance, theater, and dramatic writing.
Collaboration provides a platform for students to see beyond their artistic discipline and delve into deeper realms of experimentation in creating and performing works for the stage. Resident and guest faculty bring diverse approaches to creative and academic practice, inspiring students toward refined academic research that builds a solid platform for academic and professional growth and career placement in the field.
Browse through our website for photos and video of our production season and detailed descriptions of our academic degrees, designed for students developing their artistic voice. Contact our department for a guided tour of the facilities and meet the faculty and students that engage in the creative and scholarly arena on a daily basis. We are excited to be a part of the artistic community of Albuquerque and New Mexico.

—Professor Donna Jewell, Chair, Department of Theatre & Dance
|
"As someone who specifically focuses on regional dramatic voice, UNM held a unique position in its ability to teach me both about the world of theatre and about how it relates to the distinct culture at home. In the program I was allowed to learn and explore my own voice as a playwright and theatre maker, write plays that were actually produced, and continue to learn about different theatrical skills. The amount of support that came from the faculty and staff of UNM was incredible."
Leonard Madrid
MFA in Dramatic Writing
|
"Working towards a Master of Arts in Theatre and Dance with a Concentration in Dance History and Criticism at the University of New Mexico was a life-changing experience. I exited the program with more confidence, broader exposure to contemporary scholarship, and hands-on experience that has been applicable daily throughout my professional career. The curriculum and extraordinary faculty pushed me to grow in ways that I didn't know I needed to grow upon application. The coursework was challenging and gave me the tools needed for the completion of my own original research project."
Sarah Williams
MA in Theatre & Dance
|
"My time in UNM's Design for Performance Program consisted of several amazing years of learning, and exploration of my own creative voice. As a Design student I was given the opportunity to design costumes for theatre productions and dance pieces that pushed my imagination, but also taught me how to do a script breakdown and create a budget. After graduating I went on to work at the Santa Fe Opera, in the film industry as a wardrobe stylist, and ultimately pursue a career in Los Angeles as a Special Effects Makeup Artist. What I learned at UNM continues to be of value to me on a daily basis."
Sarah Wyman
BA in Design for Performance
Contact the College of Fine Arts
Robert Hartung building
2414 Central Ave SE
(505) 277-4332
Academic Advisement
The College of Fine Arts Student Success & Advisement Center is committed to serve the UNM community with compassion, guidance, and respect as we promote academic excellence.
To speak with a CFA advisor, please call (505) 277-4817.
The University of New Mexico is an accredited institutional member of the National Association of Schools of Dance and the National Association of Schools of Theatre.