UNM Team receives award for 2022 Venice Biennial Art exhibition project
UNM + Davidson College project, "a Library, a Classroom, and the World," which was included in the 2022 Venice Biennial Art exhibition Personal Structures has won the ECC Award for the category, "University and Research Project". UNM Art Professor of Art & Ecology, Subhankar Banerjee and Davidson professor of Latinx environmental visual art and culture scholar Dr. Jennifer Garcia Peacock, attended the award ceremony on November 27, 2022, in Venice to accept the award in person.
Personal Structures included 192 projects / participants from 51 countries, and over 520,000 visitors saw the exhibit, according to the ECC.
The UNM team included Art and Ecology MFA graduate Alexandria Zuniga de Dóchas and Art History Ph.D. student Jackson Larson. New Mexican Indigenous artist Jaune Quick-to-See Smith, along with the Las Cruces-born Chicano cartoonist and storyteller Zeke Peña, were also part of the team. Master printer Valpuri Remling from the Tamarind Institute assisted Smith, who turned 82 this year. Historian Finis Dunaway of Trent University in Canada served as a contributing scholar and editor-at-large, and the late David Mendez of Albuquerque who did the design for postcards and wall text. The team was headed by Banerjee, who was born in India and developed the project concept, served as director and co-curator, co-created the postcards, and co-designed the Classroom.
The team crafted the library in the historic Palazzo Bembo along the Grand Canal near the Rialto bridge. Displays included drawings, digital illustrations, photographs, poetry and extensive narrative and scholarly text. The outdoor classroom was set in the Marinaressa Gardens along the Venice Lagoon. With welcoming benches, lush plants, and a waterfront view, it became a popular destination for residents and visitors.
More information>
https://personalstructures.com/stories/ecc-awards-2022/
UNM Newsroom article by: Mary Beth King >
http://news.unm.edu/news/unm-group-receives-award-for-venice-biennale-project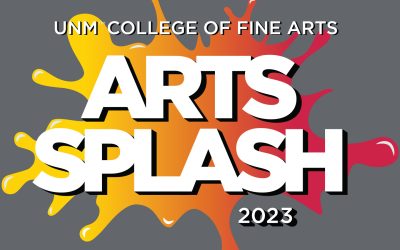 Announcing ARTSSPLASH 2023 hosted by The UNM College of Fine Arts Albuquerque, NM – Harris Smith, Dean of the College of Fine Arts at The University of New Mexico, announces the second annual ARTSSPLASH event on Wednesday, Sept. 27. ARTSSSPLASH 2023 will celebrate...