UNM students immerse in Meow Wolf internships
By Mary Beth King
Meow Wolf bills itself as an arts and entertainment company that "creates immersive and interactive experiences that transport audiences of all ages into fantastic realms of story and exploration." But mere words fall far short of the actual reality of the kaleidoscopic, mind-bending, down-the-rabbit-hole adventure of an actual visit to the wildly popular Santa Fe venue.
The company has numerous artists on staff, working in a huge range of media, including sculpture, painting, fabrication, digital art, writing, film, and many more. Additionally, Meow Wolf collaborates with local talents.
This summer, five students from The University of New Mexico were part of the collaboration, bringing their skills and talents to the hugely popular and innovative experience.
"UNM provided a solid foundation in my knowledge of film production and editing. The Department of Film and Digital Arts at UNM taught me so much on the basics of filmmaking that I felt confident when it came to producing videos and editing them."

– Jeanette DeDios
Associate Dean of Research and professor in Experimental Art + Technology Mary Tsiongas from the UNM College of Fine Arts worked with Meow Wolf to make internships available to UNM students. Nine internship positions were open to students from UNM and the Institute of American Indian Arts in Santa Fe.
"Each of our students has learned a range of skills at UNM that gave them unique qualifications for the internships at Meow Wolf," Tsiongas said. "Experimental Art + Technology students learn physical computing and programming, Film and Digital Arts students learn video production, Arts Leadership and Business (ALBS) students learn complex management skills.  Our ALBS professor, Regina Chavez Puccetti, also gave a workshop at Meow Wolf to prepare the students for their internships."
Jeannette Martinez and Elizabeth Wilkinson worked in Meow Wolf Attraction Operations, Sage Simpson in Creative Administration, Britney King with Visual Development, and Jeanette DeDios with Exhibition Content Post-production.
Martinez is a Ph.D. student in the art history program at UNM.
"I was interested in getting more connected to the arts in New Mexico when I applied for the internship," she said. She worked on the initial launch of a new attraction called Enklu, an XR experience that is being considered as a future exhibition at Meow Wolf, and shadowed other departments, such as the Social Engagement department.
"What was most interesting to me was to see how Meow Wolf balanced creative agency with business. I liked seeing that artists got the freedom to make works that were interesting to them and I think that is why the exhibitions are so fascinating to viewers," Martinez observed.
"My background in Art History and Museum Practices was very helpful throughout my experience. I was able to apply my knowledge to new exhibition ideas for Enklu, as well as other smaller-scale exhibitions that are being planned," she added. "I was able to make great connections throughout Meow Wolf Santa Fe."
Martinez hopes to become a university gallery director and professor or a museum curator and art historian, "depending on what doors open when I'm done with the Ph.D. program."
Wilkinson worked with Martinez in Attractions Operations. A fourth-year undergraduate student at UNM, she is majoring in Studio Art with a minor in Museum Studies.
"I have always loved going to Meow Wolf and I had to apply. I was so excited when I learned that I had gotten the position," Wilkinson recalled.
She also worked on the Enklu project.
"It was an extended reality (augmented reality+virtual reality) experience which we hoped to include in the House of Eternal Return in the future. For this project, we did playtests in the House for guests to give us feedback on the experience," Wilkinson said.
She collaborated with Martinez to curate a room to be used for Enklu, including inspiration for artwork and artists, how the room would tie into the narrative, marketing plans, and operational needs. Wilkinson also collaborated with fellow interns on the production of three short videos for the Gyre Apartment in the Denver exhibition, Convergence Station. Gyre video is a short video that is supposed to show the daily lives of the citizens of C-Street at Convergence Station in Denver and what they're doing in their apartments.
"Having my work be included in both Santa Fe and Denver is a huge accomplishment to me. Everything I have learned through the Museum Studies department at UNM has prepared me for the curation of these projects in a tremendous way. After graduation, I hope to work in an art museum and eventually go on to graduate school for my master's in Museum Studies. Meow Wolf was definitely a great experience and learning opportunity that I am so glad to have been a part of," Wilkinson said.
"Meow Wolf is run by some of the coolest folks. They are also very kind and welcoming," enthused community arts intern Sage Simpson, a senior. "Being able to work for this company was hugely inspiring. Working with the Social Impacts team, which was located in the executive office, gave me hope for future organizations and companies, because the main goals were to include everyone and give voices to those who are oppressed."
Simpson worked on several projects, including a video for the Denver exhibit, research on sites and cities for future exhibitions, and attended board meetings with the co-CEO accomplishing an extensive amount of research and developing a social impact schedule for the employees.
"I hope to open an arts business myself, but I want to gain some experience in different art forms and jobs so that I have a lot of connections by the time I start my art business," she remarked.
DeDios is a senior graduating in 2022 with a double major in Multimedia Journalism and English.
She worked with intern Lindsey Toya-Tosa from the Institute of American Indian Arts to create one-minute Gyre videos, brainstorming ideas, creating content and editing.
"We were given creative liberty when it came to our content. One important theme for Lindsey and I was to include Native American representation and provide a platform for Indigenous content to be viewed," DeDios remarked. "With the help of all the Meow Wolf interns as well as Lindsey, we made three one-minute Gyre videos that are now playing at C-Street."
"I appreciated that Meow Wolf focused on finding college students from diverse backgrounds because many minorities don't have opportunities on this level to share their art and I believe we've proven that we're worth celebrating," she added.
DeDios feels that UNM provided her with the background she needed to make her internship among the Meow Wolf creatives a success.
"UNM provided a solid foundation in my knowledge of film production and editing. The Department of Film and Digital Arts at UNM taught me so much on the basics of filmmaking that I felt confident when it came to producing videos and editing them," she noted.
"I would love the opportunity to return and work at Meow Wolf full time," DeDios continued. "Meow Wolf provided an escape from reality and gave me the freedom to express my art and craft that could be shared with the masses. There are also the nicest people working there that provided support and encouragement when it came to my art."
King is a third-year graduate student in the MFA Experimental Art & Technology program and is still currently employed part-time at Meow Wolf.
During the internship she created visuals and short animations for the Denver exhibition, Convergence Station, and branding and logo for Immersiversity, which is a part of Meow Wolf's on-boarding process.
"I gained valuable knowledge about the art industry from a micro-perspective, which helped me understand the complexities and challenges of world-building. I also developed and fine-tuned my digital toolkit in terms of graphic art, concept art, illustration, and 3D design," King said, adding, "My experience at UNM has helped me immensely. Having attended UNM both as an undergrad and graduate student in the art studio program, I have had the opportunity to work with amazing artists/scholars such as Mary Tsiongas, Andrea Polli, Marcella Ernest, Kency Cornejo, Szu-Han Ho, Jeannette Hart-Mann, and Stewart Copeland. Without these people, I don't think I would have had the skillset or support to apply to this opportunity."
"While I attended Wingate High School ̶ which is a former American Indian boarding school ̶ I learned that in order to help my people I would need to educate myself and to bring that knowledge back to the reservation," she continued. "I plan to complete my studies and receive my Master of Fine Arts. With that degree, I would be able to teach in the diverse field of digital arts and have access to other opportunities. I plan to work and teach on the Navajo Nation or surrounding areas so that I can stay in close contact with my family on the reservation."
"Meow Wolf has given our students real-world applications for their skills and experiences that prepare them for future creative professions," Tsiongas said.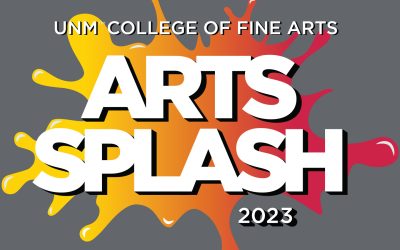 Announcing ARTSSPLASH 2023 hosted by The UNM College of Fine Arts Albuquerque, NM – Harris Smith, Dean of the College of Fine Arts at The University of New Mexico, announces the second annual ARTSSPLASH event on Wednesday, Sept. 27. ARTSSSPLASH 2023 will celebrate...