UNM music professor awarded prestigious Guggenheim Fellowship
By Mary Beth King April 13, 2020
José Luis Hurtado, is one of the 2020 winners of the Guggenheim Fellowship
By Mary Beth King April 13, 2020
Composer and pianist José Luis Hurtado, an associate professor in The University of New Mexico's Department of Music in the College of Fine Arts, is one of the 2020 winners of the prestigious Guggenheim Fellowship, one of the nation's most prestigious honors intended for individuals "who have already demonstrated exceptional capacity for productive scholarship or exceptional creative ability in the arts."
Hurtado is an accomplished award-winning composer and pianist, whose work has been performed worldwide. He studied piano performance and composition in Mexico and got his Ph.D. from Harvard. He joined UNM in 2011 as a member of the UNM Music department where he teaches Music Theory and Composition.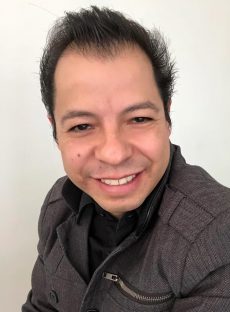 He is one of this year's accomplished group of writers, scholars, artists, and scientists who were chosen through a rigorous peer-review process from almost 3,000 applicants on the basis of "prior achievement and exceptional promise." The fellowships provide cash awards of about a year's salary to support the development of new projects and research.
"I feel honored and humbled to be part of this elite group of intellectuals. This is the result of decades of hard work and dedication. It not only gives me the certainty to keep believing in what I am doing as an artist, but encourages me to keep looking for the kind of sounds and organization that will help me to materialize the music that I have envisioned," Hurtado said.
"This high honor is well-deserved, and his distinctive work reflects the UNM College of Fine Arts' mission to engage in creative and inspirational art and music," said UNM President Garnett S. Stokes, "you bring great honor to our University and we are proud to have you on our faculty", told Dr. Hurtado in an email message.
Both a pianist and composer, Hurtado plays and writes music that is known in academia as contemporary classical music. His catalogue includes works for solo instruments, mixed ensembles, and orchestra.
With the Guggenheim Fellowship Hurtado will focus writing a concertante piano work for a child pianist. The instrumentation will include a piano soloist, plus a string orchestra, two percussionists, and electronics.
"Not only will it have the artistic purpose of showing all the technical skills of the soloist at his maximum but it will be also pedagogical, or educational, in nature as it introduces the young pianist to a collection of modern performance techniques and notation," Hurtado explained, noting that his scores contain "graphics and shapes that dictate trajectories and energies, clusters of different sizes, elbows and arms attacks, black and white keys palms glissandi, as well as inside-playing techniques such as plucking, muting, or hitting the strings with a mallet. The work will make use of varied and contrasting densities and textures as its main element of drama. Noise will be a third element that will mark climactic arrival and departure points and hence, work as structural pillars."
The piece will be written for his 10-year-old son Mateo, who will premiere the piece both here in the U.S. and Mexico, Hurtado noted.
"I've been developing the concepts and methods that my current work is based on for the last 10 years. My music is influenced by both classical and modern tradition, but at the same time there is a great percentage of personal ways to listen to and organize the material. I'm in constant search of sonic worlds that do not exist, and constantly force myself to hear in a different way, less transparent and logical, but still organic and perceptively consistent. I am interested in flexibility, mobile forms, and the possibility of letting the performer to imprint their own personality on the piece. The notation I'm using particularly is something that is in constant transformation as it reacts to the feedback that I get from the instrumentalists that I use to collaborate," Hurtado said of his distinctive style of penning his music.
He will take his Guggenheim experience with him back to the classroom.
"As a professor, UNM represents the opportunity to share with my students not only all the treasures and personal gems that I have gained and discovered through the years, but also to demonstrate them that music is a powerful tool of communication, a powerful tool of change, of decision-making, and a way to live and observe the world in a different way: that is why, an artist has the big responsibility to be more perceptive, sensitive, and a valuable member of their society," Hurtado observed.
Hurtado has won numerous awards, including the Kompositionspreis der Stadt Wolkersdorf (Austria), the Harvard University Green Prize for Excellence in Composition (USA), the Rodolfo Halffter Ibero American Composition Prize, the Micro-Jornadas de Composición y Música Contemporánea Prize (Argentina), the Julian Carrillo Composition Prize (Mexico), and second prize in the Troisieme Concours International de composition du Quatuor Molinari (Canada).
In addition, he has been awarded grants from the National Fund for the Arts of Mexico, the National Association of Latino Arts and Cultures (USA), the American Music Center, Ibermúsicas, and the Civitella Ranieri Foundation (Italy). Recent performances of his compositions have taken place in the U.S., Mexico, Brazil, Argentina, Denmark, Lithuania, Spain, and Italy.
U.S. Sen. and Mrs. Simon established the Guggenheim Fellowship in 1925 as a memorial to their son, John, to "add to the educational, literary, artistic and scientific power of this country, and also to provide for the cause of better international understanding." Since its establishment in 1925, the John Simon Guggenheim Memorial Foundation has granted more than $375 million in Fellowships to over 18,000 individuals, among whom are scores of Nobel laureates, Fields Medalists, poets laureate, members of the national academies, winners of the Pulitzer Prize, Turing Award, Bancroft Prize, National Book Award, and many other internationally recognized honors.
Listen to José Luis Hurtado's music:
Action Painting / Ensemble Vertebrae
The caged, the immured / Yukiko Takagi and Stephen Drury
Ten thousand suns_The Arditti Quartety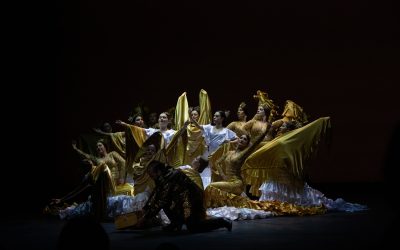 By Lilly Porter, October 30, 2023The National Institute of Flamenco (NIF) invites you to immerse yourself in a joyful and vibrant world of flamenco dance and music, villancicos – Spanish Christmas carols – Escuela Bolera, Spanish Folkdance, and African Dance. La...