UNM Fine Arts welcomes new faculty members
UNM Fine Arts welcomes new faculty members
UNM Fine Arts is pleased to announce the appointment of our new faculty members.
We are thrilled to have these artists and educators join our faculty," says Regina Carlow, Interim Dean of UNM Fine Arts. "Their diverse backgrounds and artistic perspectives will deeply enrich our students and our areas of study, and we look forward to welcoming them to the UNM community."
Department of Art:
Geralyn (Gigi) Yu, Assistant Professor of Art Education. Gigi has worked for Albuquerque Public Schools, Office of Early Childhood Education. Gigi was recognized with the 2017 Art Educator Advocacy for Art Education Award for her work with teachers to offer young children experiences that expose them to a wide range of art materials as tools for
expression.
Amanda Curreri, Visiting Assistant Professor, Painting and Drawing and Experimental Art and Technology. Amanda has been an Assistant Professor of Interdisciplinary Art at the University of Cincinnati. She has participated in three group exhibitions this year (2019) and a solo exhibition in San Francisco at the Romer Young Gallery in 2018. Her experience will bring the necessary rigor and innovative artistic practice necessary to maintain the high quality and standards maintained by our art studio programs.
Llewelynn (Welly) Fletcher, Assistant Professor, Sculpture. Welly received a BA from Dartmouth College, Hanover, NH, spent a year studying abroad at the International School of Art, Umbria Italy and received an MFA from the California College of the Arts, San Francisco, CA. She has presented recent projects at Northern Arizona University Art Museum (Flagstaff, AZ), Esqueleto Gallery (Oakland, CA), c3: initiative (Portland, OR), Riffe Gallery (Columbus, OH), and Wave Pool Gallery (Cincinnati, OH). Fletcher was a 2018 Artist in Residence at Headlands Center for the Arts (Sausalito, CA), and was awarded an Individual Excellence Award by the Ohio Arts Council in 2017.
Karsten Creightney, Assistant Professor, Printmaking. Karsten was born, raised and currently resides in Albuquerque, New Mexico. Creightney received his BA from Antioch College in Yellow Springs, Ohio. He subsequently completed the Professional Printer Training Program at the Tamarind Institute and received an MFA in painting from the University of New Mexico. He has a painting studio at Sanitary Tortilla Factory in downtown Albuquerque and his second workspace – a print studio – is also in downtown Albuquerque. His work is in the collection of the Arkansas Arts Center, Cleveland Museum of Art, Detroit Institute of Arts, Flint Institute of Arts, Fort Wayne Museum of Art, Kalamazoo Institute of Arts, Minneapolis Institute of Arts, Nelson-Atkins Museum of Art, Springfield (MO) Art Museum and numerous other institutions.
John Abbott, Assistant Professor of Painting and Drawing. John Phillip received his MFA from the University of Wisconsin and a BFA from Western New Mexico University. The primary focus of his work has been exploring the relationship between text and image. John Phillip Abbott lives and works in Silver City, New Mexico. Recent exhibitions include I Shall Be Free No.10, a solo exhibition at Galerie Bertrand in Geneva, Switzerland, group shows at Pierogi Gallery in Brooklyn, NY and Geoffrey Young Gallery in Great Barrington, MA. Abbott was also included in This One's Optimistic: Pincusion at the New Britain Museum of American Art in New Britain, CT, curated by Cary Smith as well as PRTY PPL at Circuit 12 in Dallas, TX, curated by Josh Reames.
Department of Music:
Dr. Elizabeth Petersen, Lecturer, Music Education. Dr. Petersen will be a visiting lecturer of Music Education in the Department of Music this fall. A Washington native, Dr. Petersen has taught elementary and secondary orchestra and general music for school districts near Seattle and Vancouver, WA, where she also ran a private cello studio and was active as a freelance cellist. She holds a Doctor of Philosophy degree from Ohio State University as well as a Master of Music degree from the University of Michigan and Bachelor of Arts and Bachelor of Music degrees from the University of Washington. Her research interests include musical practice, student engagement, and string pedagogy.
Jeffrey Brooks, Assistant Professor of Clarinet. Dr. Brooks was an Artist Affiliate in Clarinet at Emory University in the Atlanta, GA, area, an adjunct Clarinet Professor at Morehouse College, and the Clarinet Instructor at the Westminster Schools. Before moving to Atlanta in 2014 he served as a sabbatical replacement at Florida State University and Ohio University and he also held teaching positions as adjunct clarinet instructor at Central Washington University and Walla Walla University. Dr. Brooks is a very active performer, he performed with the Seattle Symphony, Seattle Opera, Atlanta Symphony, Charleston Symphony, the Savannah Philharmonic, and many more symphonic organizations. He holds a MM and a DM from Florida State University.
Department of Film & Digital Arts:
Maaman Rezaee, Assistant Professor, Film & Digital Arts. Maaman is a U.S.-based Iranian filmmaker whose work focuses on issues of exile, geopolitics, and transcultural dynamics. She has written and directed several films which have been screened locally and internationally, including "Family of Too Many" (2018), which received the Award of Merit for narrative shorts from the University Film and Video Association and Best Foreign Film at Philadelphia Independent Film Festival. Born and raised in Iran, Rezaee began her creative practice with studies in music and painting. She later attended the Baha'i Institute of Higher Education, an underground university for Baha'is, a religious minority in Iran not allowed in state universities. At BIHE she studied Architecture before moving to the U.S. to finish her BA in Fine Arts at University at Albany, concentrating on photography and video arts. She received her MFA in Film and Media Arts from Temple University.
Department of Theatre & Dance:
Brianna Figueroa, Assistant Professor of Dance. Brianna is a Ph.D. in Performance as Public Practice program where she also completed her MA work. Her research focuses on the historical presence and artistry of Latina identified choreographers in the United States who produce in the genres of modern and postmodern dance. Figueroa received her BFA in Dance Performance from the University of Wyoming and has trained, performed and taught dance internationally. As a practicing artist, she has developed several solo performances that examine the many ways that gender, sexuality, ethnicity, and history can be explored, challenged and shared through movement. In addition to her interest in dance, Figueroa is an experienced instructor of applied theatre, having developed culturally critical arts programing designed for integration into public school curriculums. She has worked as the program coordinator for the American Ballet Summer Intensive at the University of Texas at Austin and as a professional dramaturg in the Austin area.
Stephen Tomlin, Assistant Professor of Design. Stephen received his MFA from The University of Memphis in Technical Direction. Originally from central Texas, he received his BFA from Texas State University under the tutelage of Shane Smith and Dwight Marcus. Soon after completing his undergrad he began working with Texas Scenic company to further his knowledge in theatrical rigging and pit lift systems. As well as working with the technical direction team for two seasons with the Ohio Light Opera, in Wooster, Ohio. Stephen has a hands-on approach to working with production teams, students and design professionals. That close proximity to the work allows Stephen to better understand the designer's process, which makes each consecutive show's creation smoother and smoother.
For more information:  http://finearts.unm.edu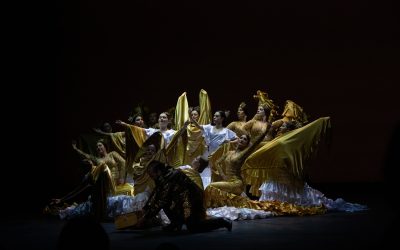 By Lilly Porter, October 30, 2023The National Institute of Flamenco (NIF) invites you to immerse yourself in a joyful and vibrant world of flamenco dance and music, villancicos – Spanish Christmas carols – Escuela Bolera, Spanish Folkdance, and African Dance. La...