UNM Dance Students Recognized at Regional and National Conference
No rest for the determined! The Monday after closing Monstro/us: UNM's Faculty Dance Concert, students from the Flamenco and Contemporary concentrations traveled to Huntsville, Texas to participate in the annual American College Dance Association South-Central Conference at Sam Houston State University. This year UNM Theatre and Dance presented two works in the adjudicated concert: Las Horas Contadas by Visiting Professor in Flamenco Marco Flores and Rompecabezas by dance student Martin Quintana in collaboration with Orli Resnik and Jesalyn McCollum.
The American College Dance Association (ACDA) is an annual conference with classes, workshops, and daily adjudicated concerts featuring pieces from every participating college. The works in the concerts are given feedback from a panel of professional choreographers, dancers, and dance artists and considered for inclusion in a Gala concert at the end of the week. Both UNM Dance pieces were chosen to be presented during the Gala Concert. This year was the 50th anniversary of the conference, and these two works were chosen out of almost 50 pieces presented during the conference.
Rompecabezas premiered in Fall 2022 during the Student Dance Concert. Undergraduate choreographer, Martin Quintana appreciates that the semiannual showcase gives the students an opportunity to "create what we want to create", and that having a faculty member act as their mentor is an enriching experience that someone may not get in other programs. Martin's piece was a collaboration with two other students of the Dance program in both Contemporary and Flamenco Concentrations, Orli Resnik and Jesalyn McCollum, that explores conformity and ultimately how to let it go. Through the rehearsals, the trio was able to build reciprocity, trust, and support that Martin says has made this work one of the best collaborations they have experienced.
"Overall, ACDA was an amazing, enriching, and unforgettable experience." Said collaborator and performer Orli Resnik. "To be able to present a piece like Rompecabezas to a wide audience and bond with each other as dancers in this program made the experience so special and it reminded me of why I dance and fall in love with the art of dance deeper."
Las Horas Contadas by Marco Flores, which premiered in Monstro/us; the UNM Faculty Dance Concert, takes inspiration from Pablo Picasso's "Guernica" and the horror left over from war conflicts. The work is sophisticated and intricate, with strong lighting and theatrical elements that transport the audience into a war-torn Spain. This piece was well-received at ACDA, gained admission into the final Gala along with Rompecabezas and was chosen to present during the National College Dance Conference. With only thirty pieces chosen to go to Nationals out of more than three hundred works presented, performing in the Conference is a huge honor, and puts The University of New Mexico in the top 10% of college dance programs in the United States. The UNM Flamenco Department has been invited in previous years, but this is the first time the students will be able to perform in this highly anticipated event.
"Marco's work is interesting theatrically and choreographically." Said Marisol Encinias. "The work has pushed the dancers to connect with a piece inspired by traumatic events that took place in Spain nearly 100 years ago. Developing and performing this work has been a beneficial experience, and now performing the work at the National College Dance Festival will be another enriching experience. The students will get to see top dance programs present their work and be acknowledged as part of that select group. We are extremely excited."
The ACDA National Dance Conference is May 26th through May 28th in Long Beach, CA.
Photo by Madrone Matysiak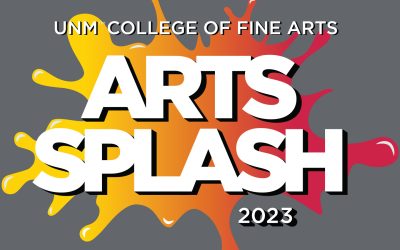 Announcing ARTSSPLASH 2023 hosted by The UNM College of Fine Arts Albuquerque, NM – Harris Smith, Dean of the College of Fine Arts at The University of New Mexico, announces the second annual ARTSSPLASH event on Wednesday, Sept. 27. ARTSSSPLASH 2023 will celebrate...