UNM Art, Center of Environmental Arts and Humanities represented at the 2022 Venice Biennale
A team from The University of New Mexico created a project titled. "a Library, a Classroom, and the World", which is currently on display at the prestigious 2022 Venice Biennial Art exhibition Personal Structures organized and hosted by the European Cultural Centre (ECC) in Venice, Italy.
"a Library, a Classroom, and the World" aims to build bridges across places, peoples, and time. It also rebels against our frenzied time and urges us to slow down to take a closer look.
The team is headed by Professor of Art & Ecology,  Subhankar Banerjee who served as the director and co-curator. The expansive team of artists and scholars spans three generations, represent multiple ethnicities, and hails from several continents.  The students working in this team are the graduating Art and Ecology MFA student Alexandria Zuniga de Dóchas and Art History Ph.D. student Jackson Larson, UNM Alumna Jaune Quick-to-See Smith, and Las Cruces-based Chicano cartoonist and storyteller Zeke Peña.
For full article details, please see:
http://news.unm.edu/news/unm-group-participates-in-prestigious-venice-art-exhibition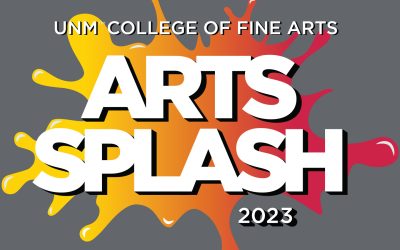 Announcing ARTSSPLASH 2023 hosted by The UNM College of Fine Arts Albuquerque, NM – Harris Smith, Dean of the College of Fine Arts at The University of New Mexico, announces the second annual ARTSSPLASH event on Wednesday, Sept. 27. ARTSSSPLASH 2023 will celebrate...