Two University of New Mexico graduate students compete in Comcast Pitch Deck Competition
Two University of New Mexico graduate students, who happen to be married, Tracy and Tim Mallette competed in the first-ever "Comcast Pitch Deck Competition".
This Competition was an early-stage pitch competition that brought together university entrepreneurs from all over New Mexico for a chance to win approximately $20,000 in cash prizes for promising business models. It was hosted by the UNM Innovation Academy and STC.UNM.
Sadly, the Mallette's did not make it to the finals but we here at the UNM College of Fine Arts thought their pitch was top notch!
Both of the Mallette's are graduate students at UNM. Tim is studying for a master's degree in music performance and Tracy is pursuing a Ph.D. in biomedical engineering. Tim earned a bachelor's degree in aerospace engineering and worked for Dassault Falcon Jet, a manufacturer of luxury corporate jets. Tim also has a bachelor of music degree in music performance and is a professional trumpet player. Tracy earned a bachelor's degree in chemical engineering and worked for L'Oréal for six years.
The couple had been toying with the idea of owning their own business for a few years when Tim bought a music stand from an inventor and liked it. The inventor emailed the Mallette's and asked if they were interested in buying his company. "We thought it was a good opportunity for us," said Tracy Mallette. They purchased the company and have been in business since October of 2019.
The Mallette's "Pitch Deck" was on the Desca Presto Music Stand. The Presto is a sturdy portable music stand that holds as much music and books as a traditional stand but folds up very small making it more convenient. Musicians often struggle with bringing their music stand to performances, a regular music stand takes up a lot of room in the trunk of a car and is hard to carry. What sets the Desca music stand apart from other portable music stands is how compact and lightweight the stand is. The stand weighs 3.5lbs and collapses to 3.5 x 3.5 x 20.
"There are other portable stands that fold up very small, but they are flimsy, can't hold very much weight, and don't extend very tall," explains Tracy, "and others that are very large and sturdy but they don't collapse a whole lot. With the Desca Presto music stand, you are getting the best of both worlds."
The stand is also the case and has a built-in carrying handle making it easy to bring to your gigs. It is made in the US with components sourced from the US. You can visit the Mallette Products store in person at 11930 Menaul Blvd., Suite 112A or online at https://www.descahome.com/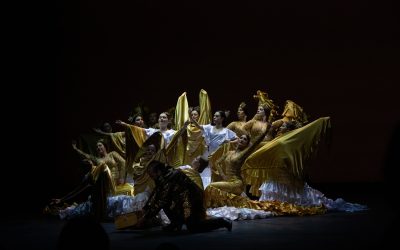 By Lilly Porter, October 30, 2023The National Institute of Flamenco (NIF) invites you to immerse yourself in a joyful and vibrant world of flamenco dance and music, villancicos – Spanish Christmas carols – Escuela Bolera, Spanish Folkdance, and African Dance. La...