The Linnell Festival of New Plays
February 10th -12th in the Experimental Theatre on UNM
The annual Linnell Festival of New Plays presents new works by students of the UNM MFA Dramatic Writing Program. This year presents six staged readings of new works in progress by the dramatic writing cohort. Readings are vital to a playwright's process as they get work in progress in front of an audience. It allows the playwright to see what resonates with audiences as well as how actors and directors interpret what they have written on the page. It is an integral part of the process, and thrilling to be in the presence of new work and see what the future of theatre and performance has in store.
Friday February 10th, 2023
6:00 PM The Relic by Marya Errin Jones directed by Amy Yourd
8:00 PM Epistolize by Dani Mettler directed by Andy Gustke
Saturday February 11th, 2023
4:00 PM Leaves Fall by Katie Farmin directed by Emma Zeigler
6:00 PM Hurt/Comfort by Julia Storch directed by Amy Yourd
Sunday February 12th, 2023
2:00 PM HartIsland by Tatiana Isabel Gil directed by Shaila Schmidt
4:00 PM American Peaches by Mikayla Ellis directed by Tatiana Isabel Gil
Between the reading on each day there will be a small gala to celebrate the work of the Dramatic Writing Cohort, as well as a silent auction to support the student production
company SCRAP.
*photo of playwright Katie Farmin in rehearsal for her play "Leaves Will Fall" premiering Saturday, February 11th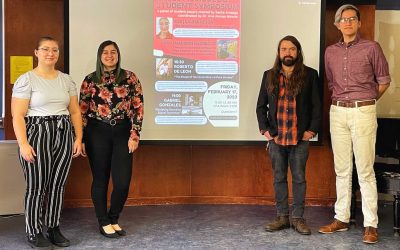 Musicology students present their research at UNM 2023 Musicology Student Symposium How can music be used to revitalize a language? How can opera be a journey of healing from trauma? How does a popular music genre interact with the Mexican drug war? How can hyperpop...