The Linnell Festival of New Plays
by Kathleen Clawson
The 2018 Linnell Festival of New Plays at UNM is the centerpiece of UNM's award winning Dramatic Writing Program, led by Artistic Director, Gregory S Moss
The University of New Mexico's Department of Theatre and Dance is pleased to announce the world premieres of three plays by 3rd year students in UNM's award winning MFA in Dramatic Writing Program. Los Dreamers by Mónica Sánchez, directed by Tiffany Nichole Greene; The Great Maverick Adventure of 2007 by Caroline Toby Graham, directed by Kate Clarke; and Planeta Solitario, by Diego Miguel Gomez, directed by Dan Rogers, will be presented as part of the 2018 Linnell Festival of New Plays. Performances of these new works run April 6 through 14, 2018 in The Experimental Theatre on UNM's Main Campus. This year's festival also includes a directed reading of a new work by 2nd year MFA playwright Jay B. Muskett as well as readings by 1st year MFA playwrights Aniello Fontana and Nelle Tankus.
Los Dreamers, tells the story of Scoobi, an undocumented-law-student-love-child of the Zapatista rebellion of 1994. Petra, her mother and former revolutionary, is also undocumented. Dylan, is Scoobi's ticket to citizenship. On the heels of Scoobi's marriage-of-inconvenience to Dylan, this odd trio navigates personal and political borders under the constant threat of deportation while Roko, the soldier-ghost of Scoobi's soulmate is lurking about. Playwright Mónica Sánchez has written and developed work collaboratively and independently for the stage; directed a handful of productions small and large; and enjoyed a myriad of assignments as a teaching artist and community engagement facilitator. After 20+ years in San Francisco and Los Angeles, working with and learning from inspired and inspiring contemporary theatre artists, she has returned to New Mexico where she is a MFA candidate at the University of New Mexico.
In the era of the first iPhone, the Great Recession, the "War on Terror," and Oreo-O's, The Great Maverick Adventure of 2007 follows six high school swimmers, struggling to take control of their identities as they are launched into adulthood long before they're ready. Through a series of warm-ups, drills, and monologues, the mighty Mavericks must face jealousy, heartbreak, illness, and weird irregular periods, and learn how to work as a team. Caroline Toby Graham is a playwright, actor, theatre educator, and freelance art & photography model. A California native, she moved to New Mexico in 2011 and graduated summa cum laude with a BA in Theatre from UNM in 2015. As a playwright, her local production credits include Low Moon, several ten-minute plays and staged readings, and Fiberglass Burning, a full-length verbatim play centering on individuals with Complex Regional Pain Syndrome. She is also a co-writer for the New Mexico-filmed web series "Thank You, 5."

In Diego Miguel Gomez' Planeta Solitario, two lovers trek through the familiar and unfamiliar territories of their relationship while seeking adventure in exotic lands, survival in high elevations, and air beneath water. The journey forces a search of themselves, their future, and their love. Gomez is from Santa Fe, New Mexico. At age 19, he threw as hard as he could, and ran as fast as he could, but it wasn't enough for the Montreal Expos. Sitting in the hot, dry, dusty dugout of that El Paso baseball field, he contemplated what was next in his life, it was then and there he realized, "if you can't beat 'em, write about 'em." He enjoys all forms of writing but finds his true passions as a screenwriter and playwright. Through these mediums, he can put his experience, fantasies, questions, and thoughts in a visual form on screen and the stage in an attempt to see them under a different light, or darkness. Spanglish is his second language, sports is another. He integrates culture and sub-cultures, sports and travel into his work with the core heartbeats of drama, comedy, and love.
Since its inception, playwrights in UNM's Dramatic Writing Program have received national recognition for their work and this year is no exception. At the Kennedy Center American College Theatre Festival for Region 6, held in San Angelo, Texas, The Great Maverick Adventure of 2007 by Caroline Graham received Second Place for The National Partners of The American Theatre Playwriting Award.
Monica Sánchez' Los Dreamers received Distinguished Achievement Award in both the Rosa Parks Playwriting Award and The Kennedy Center Latinx Playwriting Award.
Also featured in the Linnell Festival of New Plays will be a first look at The Weight of Shadows by second year MFA Jay B. Muskett on Wednesday, April 11th and readings of new works by two 1st year MFA's: Hunting by Nelle Tankus on Monday, April 9th and Tachycardia, an abnormally rapid heart rate by Aniello Fontano on Tuesday, April 10tj. All readings begin at 7:30pm and are admission free.
The Linnell Festival of New Plays at UNM provides audiences the opportunity to play a vital role in the continuing development of these exciting new voices, as they step from their academic program towards the professional stage, supported by an outstanding team of directors, actors, designers, and technicians. The Festival runs April 6 through 14, 2018 in the Experimental Theatre, located in the lower level of the Center for the Arts on UNM's main campus. Performances of Los Dreamers will be April 6 and 12 at 7:30pm, performances of The Great Maverick Adventure of 2007 will be April 7 and April 13 at 7:30pm, and performances Planeta Solitario will be April 8 at 2:00pm and April 14 at 7:30pm. Ticket prices are $15 General admission, $12 UNM Faculty & Seniors, and $10 UNM Staff & all Students. Tickets are available at the UNM Ticket Offices located at the UNM Bookstore, Central and Cornell, or the Arena (The Pit), University and Avenida Caesar Chavez, and by calling (505) 925-5858. Tickets may also be purchased online at www.unmtickets.com. The staged readings are admission free. More information is available online at http://theatre.unm.edu or by calling 277-4332.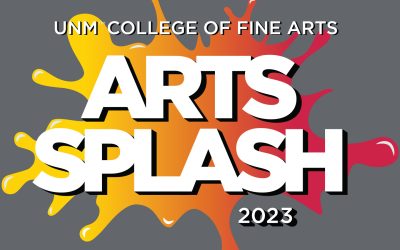 Announcing ARTSSPLASH 2023 hosted by The UNM College of Fine Arts Albuquerque, NM – Harris Smith, Dean of the College of Fine Arts at The University of New Mexico, announces the second annual ARTSSPLASH event on Wednesday, Sept. 27. ARTSSSPLASH 2023 will celebrate...