Renowned Choreographers Debut New Works in UNM Faculty Dance Concert
Article Content: Prepare to be captivated by the haunting beauty and depth of the annual Faculty Dance Concert from the UNM Department of Theatre and Dance. Monstro/us takes a deep dive into the emotional and physical resonance of the monstrosity that permeates humanity and its history. The concert opens Friday, February 24th at 7:30pm and runs through March 4th at Rodey Theatre in the Fine Arts Center on UNM Campus.
Led by Artistic Directors Vladimir Conde Reche and Marisol Encinias, the UNM Department of Theatre and Dance showcases the incredible talent of its students and brings to life the many layers of the human experience. The dancers will take audiences on a journey through hardships and trials, showing how even in the darkest of times, hope and resilience can be found.
Monstro/us features Contemporary choreographies from Vladimir Conde Reche and guest artist Dana Tai Soon Burgess, world renowned choreographer and UNM Dance alumni, and Flamenco works by Marco Flores and international acclaimed artist duo Rafael Estévez and Valeriano Paños. With stunning choreography, gorgeous costumes, and deeply emotional themes, Monstro/us is an immersive experience not to be missed.
In a world that can often feel overwhelming, Monstro/us offers a unique perspective on the power of the human spirit to overcome adversity. This show will keep audiences at the edge of their seats throughout the evening, closing on a note of hope and recognizing that society can be better and regardless of how long it might take, the light is ours to conquer.
Tickets for Monstro/us are on sale now and can be purchased at unmtickets.com or the UNM Bookstore. Don't miss your chance to experience new works by renowned artists right here in Albuquerque.
https://www.unmtickets.com/events/detail/monstro-us-faculty-dance-concert-at-unm-mo1
*photo of a tech rehearsal, courtesy of Marisol Encinias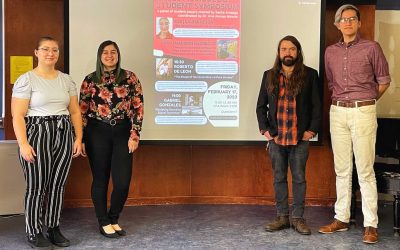 Musicology students present their research at UNM 2023 Musicology Student Symposium How can music be used to revitalize a language? How can opera be a journey of healing from trauma? How does a popular music genre interact with the Mexican drug war? How can hyperpop...