SPREAD THE WORD!
Download and email/print the informational fliers below to support YOUR students in submitting their best work.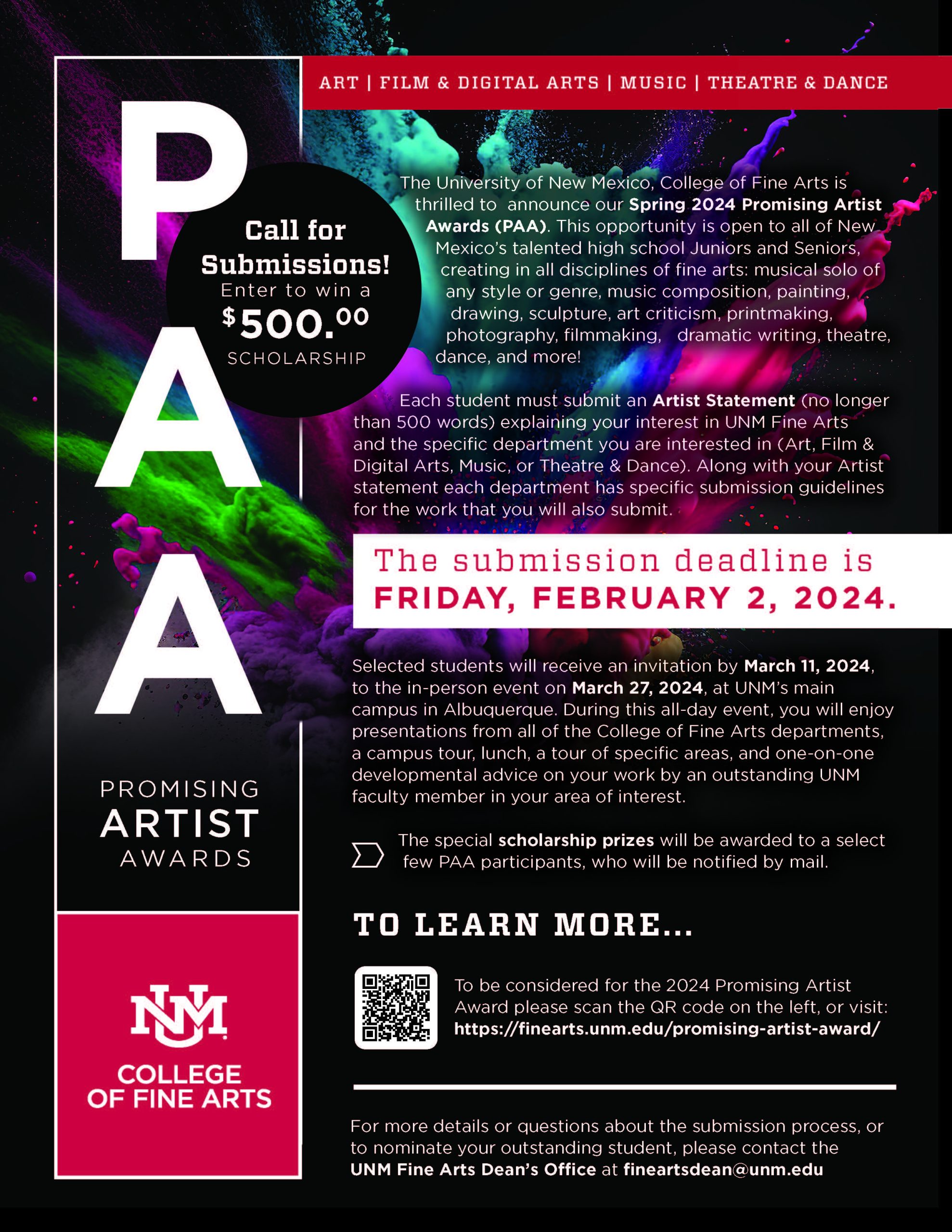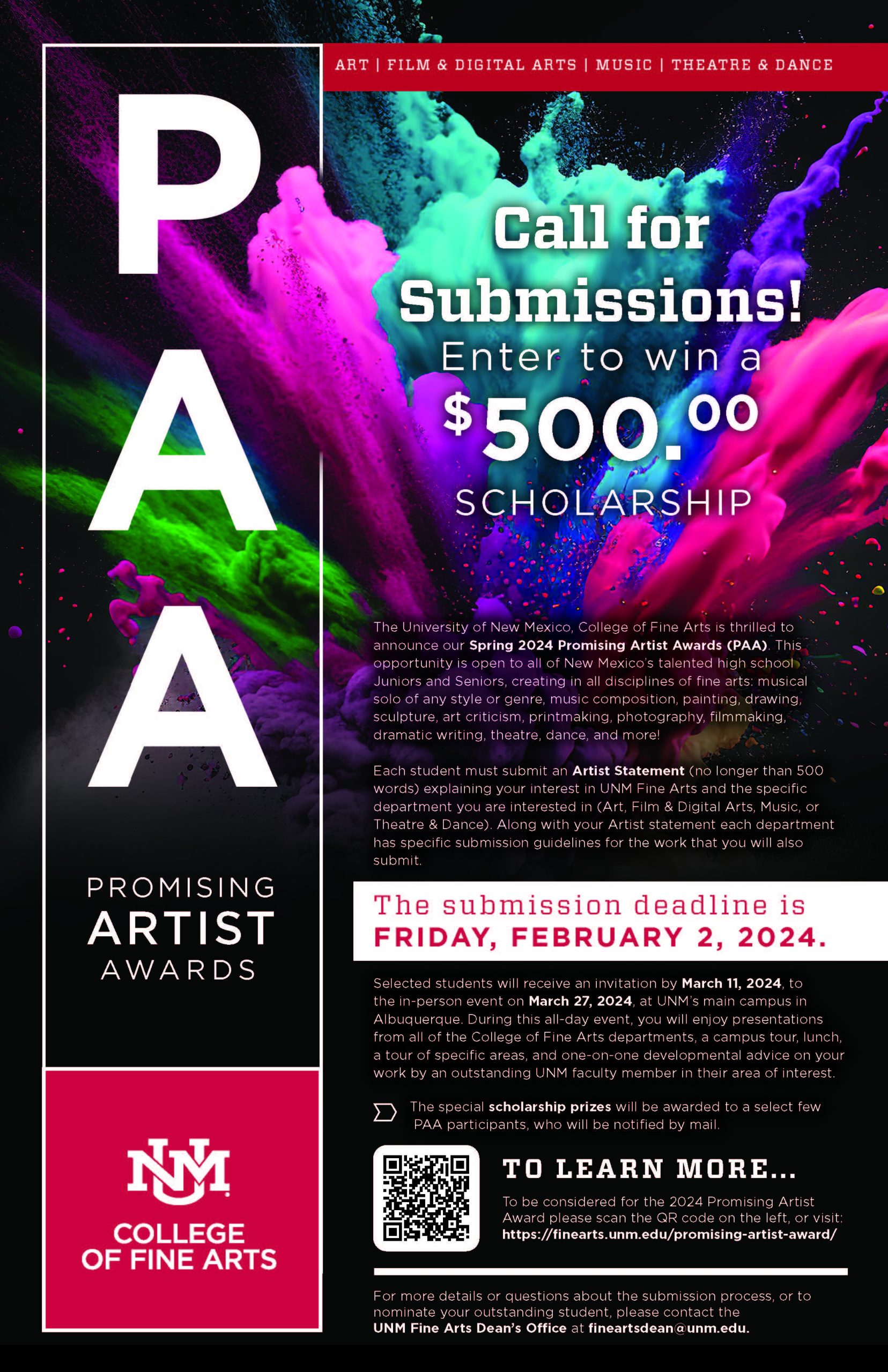 The University of New Mexico College of Fine Arts is pleased to announce our Spring 2024 Promising Artist Awards (PAA)!
This opportunity is open to all of New Mexico's talented high school juniors and seniors, creating in all disciplines of fine arts: musical solo of any style or genre, music composition, painting, drawing, sculpture, art criticism, printmaking, photography, filmmaking, dramatic writing, theatre, dance, and more.
Each student must submit an artist statement (no longer than 500 words) explaining your interest in UNM Fine Arts and the specific department you are interested in: Art, Film & Digital Arts, Music, or Theatre & Dance. Along with your artist statement, each department has specific submission guidelines for the work that you will also submit.
THE SUBMISSION DEADLINE IS FRIDAY, FEBRUARY 2, 2024.
Selected students will receive an invitation by March 11, 2024 to an in-person event on March 27, 2024 at UNM's main campus in Albuquerque. During this all-day event, students and their adult guests (an adult family member and instructor) will enjoy presentations from all of the College of Fine Arts departments, a campus tour, lunch, a tour of specific areas, and one-on-one developmental advice on their work by an outstanding UNM faculty member in their area of interest. The special scholarship prizes will be awarded to a select few PAA participants who will be notified by mail after the event. To be considered, please fill out and submit the form below.
Promising Artist Awards Spring 2024 Submission Form
For ART please submit a single PDF file of good-quality (150dpi to 300dpi) images for five works of art and demonstrating the breadth and concentration of the student's creative experience. If work is intended to be viewed from more than one perspective, students can include up to three images of the same artwork. Please provide basic information about the submissions including the work's category (e.g. Ceramics; Drawing; Fibers; Graphic Design; Jewelry; Mixed Media; Painting; Photography; Printmaking; Sculpture), year created, medium, and overall dimensions.
Submissions need to represent the student artist's original creative efforts and cannot be a direct copy of another artist's work. Please do not submit work copied from published photographs, magazines, book illustrations, online images, or other publishing sites; please do not submit work if there is uncertainty to the original source of the work's imagery.
For FILM & DIGITAL ARTS please submit one strong original creative work including, and not limited to a film, video, poem, script, journalistic article, and photo, computer programming for games, animation, business plan, digital photography, music & sound, multimedia piece, drawing, painting, etc. Please upload the file to YouTube and send us the link or use Dropbox for any file over 10mb.
For MUSIC please submit one musical performance (no more than five minutes). Performances may include an unaccompanied solo, an accompanied solo, an original musical composition (MIDI or live), a duet, or a small ensemble. Performances may be voice or any instrument (woodwind, brass, percussion, string, electronic, mariachi, rock, folk, digital, etc.). Please upload the file to YouTube and send us the link or use Dropbox for any file over 10mb.
For THEATRE & DANCE please submit one 2-3 minute video of you performing a theatrical monologue, dance, or original scripted piece (such as poetry-slam style performance or other performance work). When you make your recording, please find a neutral background for the video submission and begin with a slate (ie: your name, your high school, and the piece you will be performing). Please upload the file to YouTube and send us the link or use Dropbox for any file over 10mb.
For more details or questions about the submission process or if you are a Fine Arts instructor in any New Mexico High School and would like to nominate an outstanding student, please contact the UNM College of Fine Arts Dean's Office at fineartsdean@unm.edu
Academic Advisement
The College of Fine Arts Student Success & Advisement Center is committed to serve the UNM community with compassion, guidance, and respect as we promote academic excellence.
To speak with a CFA advisor, please call (505) 277-4817.