New Mexico Student Filmmaker Showcase Highlights Four Winners from UNM
Four students from the UNM Film & Digital Arts program received awards from the New Mexico Film Foundation's 2019 and some were featured at the New Mexico Student Filmmaker Showcase in September at the Kimo Theater in Albuquerque.
Noah Yacko  – Best Cinematography
Michael Romero – Best Visual Special Effects
Donut Disaster written and directed by Rachel Bossert – Best Animation

Garden of Bones written and directed by Noah Licona – Best Science Fiction
The showcase highlighted the talent coming out of New Mexico's numerous film and media programs. Nine colleges from across New Mexico submitted a total of 28 videos, 13 of which were chosen for the festival. Each New Mexico Post-Secondary school was invited to submit up to three student videos of no more than 15 minutes each, plus and optional special effects reel of up to one minute in length.
List of films and schools:
Alters and Me– DACC
Roasted– ENMU
Simone– IAIA
Before the Light– NMJC
Pop By– NMSU
Nothin– NNMC
Exit– NNMC
Navajo Youth Build– SJC
Fading– SJC
Garden of Bones– UNM
Donut Disaster– UNM
Michael Romero VFX– UNM
Rio Grande Water Story– UNM Taos
This screening in Albuquerque had the "Best of" films with categories including Best Cinematography, Best Writing, Best Directing, and Best Sound. Students winning in specific categories received prizes from the following sponsors: Canon, Avid, Write Brothers, iZotope and Director 4.5 Notebook.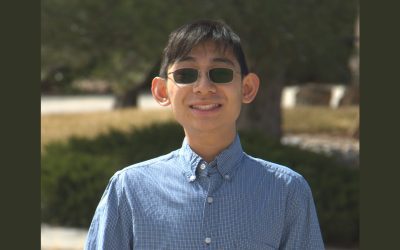 Congratulation to Daniel Feng for Research Award Congratulation to Daniel Feng who won 2nd place in the 2023 Hulsman Undergraduate Library Research Award's Emerging Researcher category for a paper they wrote in PhD candidate, Beth Wilson's, Intro to Art course. Their...