Music alumnus doing some incredible work during this time of COVID
Alumnus Ingela Onstad doing some incredible work during this time of COVID.
Ingela Onstad, who completed her M.M. In Voice Performance (2014) and her M.A. in Mental Health Counseling (2017) from UNM, recently launched a new business called Courageous Artistry. Through this new business, she works as an anxiety coach for performing artists. She has shared her expertise on overcoming performance anxiety at institutions such as Colby College, Tulane University, Fort Lewis College, the University of New Mexico, Rio Grande NATS, Albuquerque Music Teachers' Association, the New Mexico School for the Arts, Portland State University, Youth Opera of El Paso, and the University of Texas at El Paso. During March and April, she has been helping musicians across the U.S. cope with their anxiety due to cancellations of performances and economic insecurity caused by the global pandemic by presenting numerous free online webinars. In these free webinars, she presents researched and documented modalities and strategies to help lower stress levels and anxiety.
Ms. Onstad, a Santa Fe native, returned to complete her graduate work at UNM after a lengthy European opera career. In addition to her work as a Licensed Mental Health Counselor and Anxiety Coach, she maintains a busy schedule of performances across the U.S. and abroad. Highlights of her performance career include opera performances at Dresden's Staatsoperette, Oldenburgisches Staatstheater, Landestheater Schleswig-Holstein, and Santa Fe Opera, and concert performances with the Santa Fe Symphony, New Mexico Philharmonic, Chatter, Bad Reichenhaller Philharmonie, Chicago Arts Orchestra, and many others.
Visit:  courageousartistry.com
Follow her on social media @courageousartistry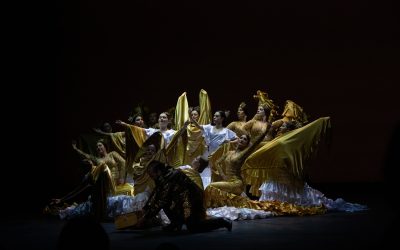 By Lilly Porter, October 30, 2023The National Institute of Flamenco (NIF) invites you to immerse yourself in a joyful and vibrant world of flamenco dance and music, villancicos – Spanish Christmas carols – Escuela Bolera, Spanish Folkdance, and African Dance. La...