LUMBRE: A Concert by Emerging Choreographers
The University of New Mexico Department of Theatre and Dance is proud to announce "Lumbre" an inspiring dance concert featuring new works in Contemporary and Flamenco, choreographed and produced by students of the UNM Dance Program.
The Student Dance Concerts have always been a cornerstone of the UNM Dance Program, and "Lumbre" promises to be an extraordinary addition to this tradition. The fall and spring performances are a testament to the passion, dedication, and artistic expression of our students.
Rondeña by Kayla Lyall: Finding Our Most Authentic Selves
Presented in "Lumbre" is Rondeña by MFA student Kayla Lyall, a performance that serves as a representation of the search for our most authentic selves. In the piece, Lyall explores the will to continue, find something from nothing, and explores the highs and lows of life.
Catalyst by Isa De Groote Tavares: Embracing Change
Isa De Groote Tavares presents Catalyst, a work that dives into the decision to leave an entire life behind and start anew. It explores the challenges of being alone, the bittersweetness of change, and the acceptance of transformation.
A Night of Diverse Performances
"Lumbre" offers a diverse array of performances, each exploring something fresh and unique through the medium of dance. From works about heritage and identity, to dance and disability futurities, to rebelling in a proscenium theatre space, the concert is a highlight of the UNM Theatre and Dance productions and not one to miss!
Lumbre
October 27th and 28th and November 3rd and 4th at 7:30pm
October 29th at 2:00pm (sensory friendly performance)
The Elizabeth Waters Center for Dance
301 Yale Blvd NE
Tickets at unmtickets.com or the UNM Bookstore
$12 General, $10 Faculty and Seniors, $8 Staff and Students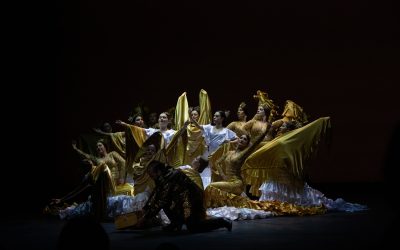 By Lilly Porter, October 30, 2023The National Institute of Flamenco (NIF) invites you to immerse yourself in a joyful and vibrant world of flamenco dance and music, villancicos – Spanish Christmas carols – Escuela Bolera, Spanish Folkdance, and African Dance. La...