John Abbott opens a solo show
John Abbott opens a solo show "New Day" at the Xippas Gallery in Paris
Abbott is an Assistant Professor of Painting and Drawing who joined the College of Fine Arts this fall.
This is Abbott's first solo show at the Xippas gallery, reuniting on both floors of the exhibition space a body of works carried out since 2012 and his most recent productions.
Since his debut, John Phillip Abbott explores the relationship between text and image, blurring the boundary between both. Words, names or short sentences organize his compositions with a grid-like structure and function as images rather than mere concepts. Complex and visually intense, his linguistic structures challenge legibility and invite the viewer to enter an interstitial zone, between "reading" and "seeing".
The actual process of painting for Abbott may be seen as a journey of gradual detachment from the meaning of the word. Or, put differently, his creative process is a passage: from "reading" to "seeing". Once completed, the viewer will be invited to follow the same path, only backward, from "seeing" to "reading". What will be read remains enigmatic due to the autobiographical nature of the words. However, sufficiently ambiguous, the paintings do not close in upon themselves, but rather stay open for possible interpretations. As a result, through Abbott's visual formulas, the viewer may be reminded of his past or invent a brand-new story.
With this balancing between "reading" and "seeing", between memories put into words and a certain detachment from the words' initial meaning, Abbott's paintings enclose a paradox. On the one hand, we are confronted with the rational approach of formal painterly research (dictated by geometry, logic or necessity). On the other hand, there is always a sentimental backstory determining the actual choice of words and formal decisions.
Abbott is constantly inventing and reinventing his way of working and thinking about painting. He listens to materials and stays open to possible surprises, welcoming deformities and embracing imperfections. This is even more true of his newest paintings presented in the upper gallery. In this body of work, he starts to paint on the unstretched canvas, covering it with dots or stripes, then, stretches it up in order to proceed with the usual word construction. The work on the unstretched canvas gives space to more painterly accidents and unexpected twists, which is why he refers to the moment of stretching the canvas as serendipitous. As if to remind us, that despite the unknown premises and all kinds of surprises waiting ahead, there is always a place for an intuition (some call it hope), which makes us believe that a new day shall come, and it will be pretty amazing.
John Phillip Abbott (born in 1975) lives and works in Albuquerque, New Mexico, USA. He received his MFA from the University of Wisconsin in 2007 and a BFA from Western New Mexico University. His work has been shown internationally and most recently at Gleichapel, Paris; COUNTY Gallery, Palm Beach, FL; Galerie Bertrand in Geneva, Switzerland; Pierogi, New York and Devening Projects, Chicago. Abbott was also included in institutional shows such as This One's Optimistic: Pincusion at the New Britain Museum of American Art in New Britain, CT, curated by Cary Smith.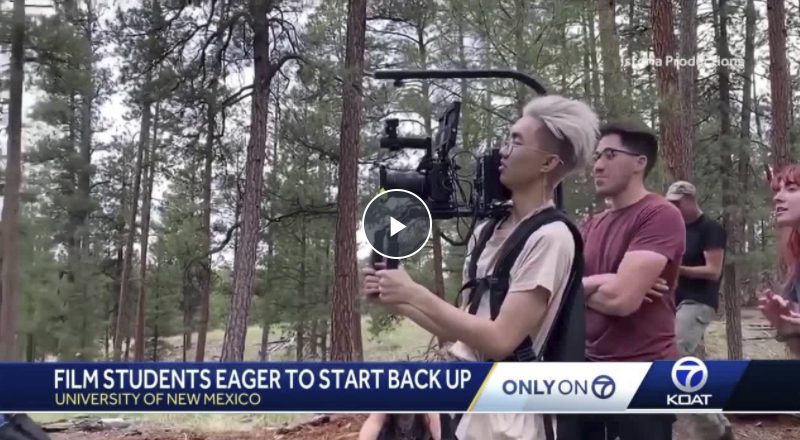 Professional, amateur filmmakers ready to get back to work. When the pandemic hit and the governor's health order shut down most of the state, filmmakers were left wondering how long it would last. Now those months of wondering are over, as set construction and small...