Lidón Patiño
Lecturer II of Dance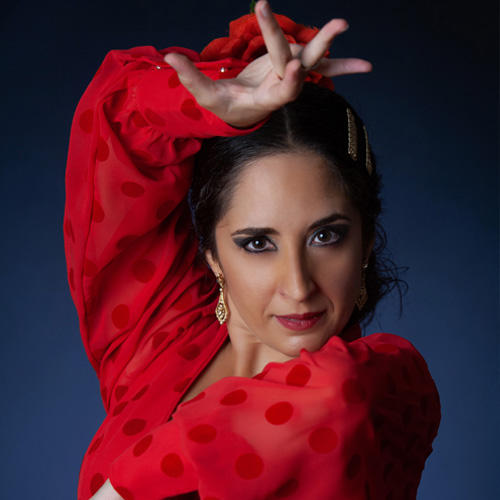 Lidón Patiño
Lecturer II of Dance
Lidón Patiño is a professional Flamenco dancer and Choreographer, faculty member in the Department of Theatre & Dance at The University of New Mexico.
Graduated from the Conservatorio Profesional de danza of Madrid and starting touring the world at a young age. She was trained by the great figures of flamenco and she has worked in large companies as a soloist such as Marco Flores and Rafael Amargo among others. https://lidonflamenco.com
In 2011, she was awarded the First Flamenco Prize at the Almería International Dance Competition, and at the end of that year, she was awarded as Young Promise of Flamenco at the XX Spanish and Flamenco Dance Contest in Madrid.
Lidón has presented her own shows at prestigious festivals such as "Suma Flamenca" in Madrid, where she premiered "Reflejo", and at "Festival de Jerez" where she took the show "Flamenco". She has also been part of the Festival de los Nuevos Valores de Flamenco "XI Larachí Flamenca" premiering her show in Seville and taking it to Paris and Turkey.
Lidón has danced in the most prestigious Flamenco Tablaos such as the historical Tablao "Casa Patas", "Corral de la Morería", "Tablao Villarosa", "Corral de la Pacheca", "Las Carboneras" among others. Mrs. Patiño is also part of the Jazz fusion band "patáx" with which she has danced in the most relevant Jazz festivals in the world.
She has danced and taught in more than 27 countries around the world and choreographed for different artists and companies. She teaches at the prestigious Flamenco and Spanish Dance School in Madrid "Amor de Dios" when she is in Spain, at National Institute of Flamenco in Albuquerque and continues to be invited to different festivals and schools around the world to choreograph, give masterclasses and intensive courses.
Founder and creator of "Lidón Flamenco Academy" where she has been teaching online to Flamenco students from different countries since 2020. She has built a Flamenco online community through her online courses. https://lidonflamencoacademy.com/en/