Congratulations UNM Photography alum Martin Wannam who is now the Assistant Professor of Art at UNC Chapel Hill
Martín Wannam (b. 1992, Guatemala) is a visual artist and educator whose work critically examines Guatemalan's historical, social, and political climate, focusing on freedom dreaming for the queer individual. He focuses on the intersection of brownness and queer utopia that uses the foundation of iconoclasm and the aesthetic of maximalism through the tools of photography, sculpture, and performance for the constant evaluation of systematic structures such as religion, coloniality, folklore, and white supremacy.
Wannam has exhibited nationally and internationally, including El Museo de Arte Contemporaneo (Panama), Photo Pride (Netherlands), 516 Arts (NM), The Light Factor (NC), UNM Art Museum (NM), Site Santa Fe (NM), Tamarind Institute (NM), Rotterdam Photo (Netherlands), Espacio Satellite (GUA), Clamp Light Studio (TX), Southern Exposure (SF), The Border Project Space (NYC) among others. He is part of Fronteristxs Collective, a collective of artists fighting for migrant justice and the abolition of the prison industrial complex. Recently, they have been selected to be part of the upcoming Biennial in Guatemala.
https://art.unc.edu/people/studio-art-faculty/martin-wannam/
https://art.unc.edu/2023/02/faculty-member-martin-wannam-part-of-bienal-de-arte-paiz-in-guatemala/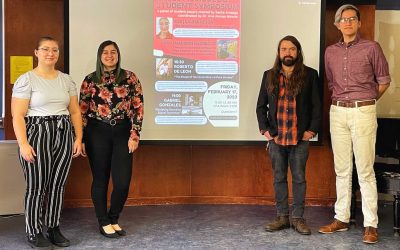 Musicology students present their research at UNM 2023 Musicology Student Symposium How can music be used to revitalize a language? How can opera be a journey of healing from trauma? How does a popular music genre interact with the Mexican drug war? How can hyperpop...