Congratulations to Szu-Han Ho who will be participating in the exhibit, "No Justice Without Love," at the Ford Foundation in NYC
No Justice Without Love brings together the transformational work of artists, activists, and allied donors who make up the Art for Justice Fund (A4J) community. The exhibition is an invitation to engage with the Fund's mission to change the narrative around mass incarceration and disrupt the criminal justice system. Inaugurated in 2017 under the unprecedented philanthropic vision of Agnes Gund, A4J launched with $100M generated from the sale of Agnes' favorite painting, Roy Lichtenstein's Masterpiece. This spurred artists, collectors, and supporters to donate an additional $25M to the Fund, which advances policy reform, shifts public narratives on criminal justice, and promotes the leadership of formerly incarcerated people while centering art as a catalyst to propel change.
The exhibition includes work from formerly incarcerated and allied artists alongside submissions by former and current A4J grantees, who have been invited to a Call and Response to express how A4J—and the remarkable community it supports—has affected their practice. In charting the evolution of artists' practices, No Justice Without Love also presents the ways in which artists and advocates create new aesthetics around humanity, resilience, and self-determination, while elevating themes of redemption, rehabilitation, and transformation.
Dates:
April 4-June 30, 2023
Curated by Daisy Desrosiers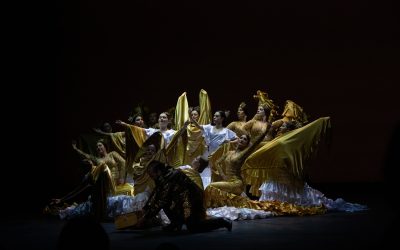 By Lilly Porter, October 30, 2023The National Institute of Flamenco (NIF) invites you to immerse yourself in a joyful and vibrant world of flamenco dance and music, villancicos – Spanish Christmas carols – Escuela Bolera, Spanish Folkdance, and African Dance. La...