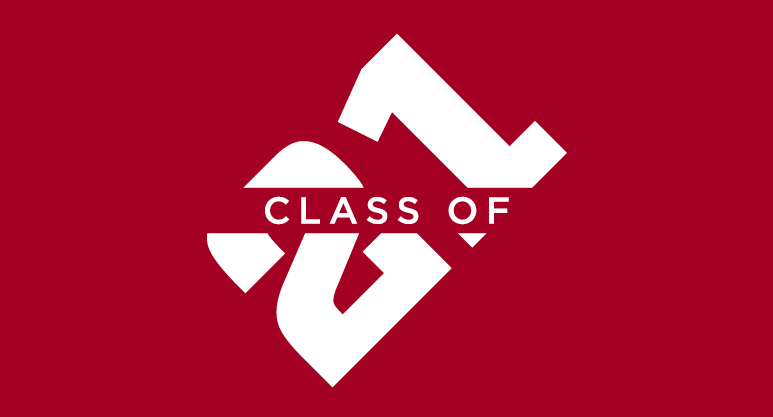 Celebrating Fall 2021 Fine Arts Graduates
Friday, December 17,
3 pm – 5 pm
Center for the Arts Lobby
Fine Arts graduates will receive a congratulatory message from Dean Harris Smith.
A special UNM Fine Arts alumni or community speaker has been invited too, TBA.
Enjoy cake and lemonade with your peers, family and friends enjoying this milestone with you,
and take pictures in the historic Center for the Arts building lobby, UNM's beacon of creativity and expressive student spirit.
Students who bring with them a completed survey of their time with us will get a complimentary college success shirt to wear with pride. Spring 2021 College of Fine Arts Graduates
CLASS OF 2021
Andrew Mirabal
Life is a journey. Nothing worth doing, ever came easy, it's called the road less traveled.  We are not human beings; we are here being human. We must be gentle with ourselves but also have the perseverance to do what we know is right. For what footprints shall we leave in the sands of history?
Being able to have been where I have been, walked where I have walked, has been a blessing but nothing compared to the honor of being raised by my late grandmother and queen, Cecilia Mirabal. Because of you grandma, with humility, I accept my diploma, with gratitude for the unwavering love you blessed me with all my life.  "You were my strength when I was weak, you were my voice when I couldn't speak, you were my eyes when I couldn't see, you saw the best there was in me."
Te quiero mucho.  All Glory to God.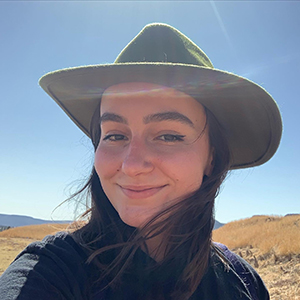 CLASS OF 2021
Mira Misleh
"I am forever grateful to have been able to study what I love at UNM from some of the best professors ever! Thank you Mom and Dad for helping me follow my dreams!"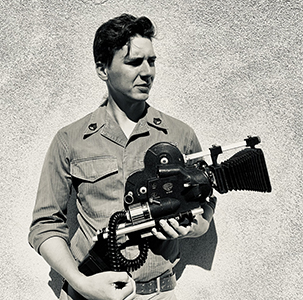 CLASS OF 2021
Edgardo Gonzalez
"People have said that my films are very difficult to watch, that they're experiences you are put through rather than ones you enjoy, and it's true."
                                    – John Cassavetes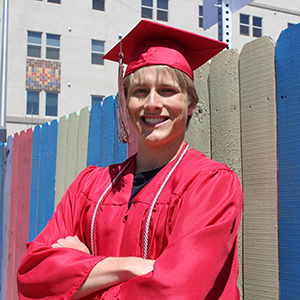 CLASS OF 2021
James Snyder
"Players are artists who create their own reality within the game."
                            – Shigeru Miyamoto, Video Game Designer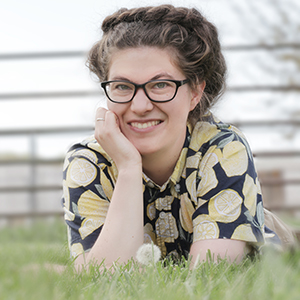 CLASS OF 2021
Brianna Joyce
"I'm endlessly grateful for the support of my professors in the music department, and for the priceless friendships, I've gained while completing the music ed program.  My life is much richer for it!  I can't wait to get started in my own classroom and build on what I've learned during my time at UNM."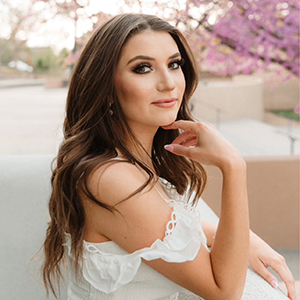 CLASS OF 2021
Megan Stone
"You have to listen to your own inner timing, not the timing of the world. Enjoy the process of every day. An achievement is not just one day—it is a sum of all moments," 
                                                                – Christian Louboutin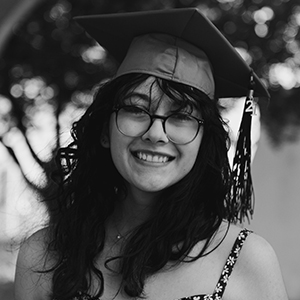 CLASS OF 2021
Elizabeth Peralta
"Thank you to my teachers and loved ones, for molding me into the person I am today. Without all of you, there would be no spark and no stories for me to tell."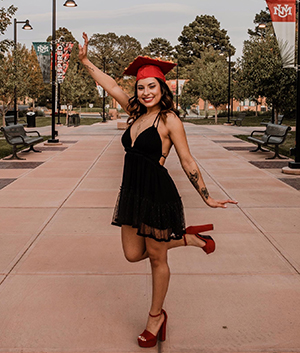 CLASS OF 2021
Savannah Castillo
"What a wild ride it has been. I'm so thankful for my family and friends who stood by my side through this journey. I'm so excited for the next chapter. Go Lobo's!"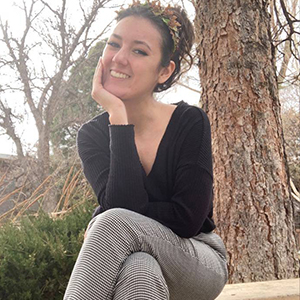 CLASS OF 2021
Jenna Lee Ramsay
"Hi friends, you bring a very special light to our world. Thank you for being YOU! Best of luck in all of your endeavors."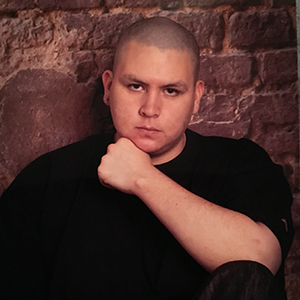 CLASS OF 2021
Elotario Trujillo
"I am finally free."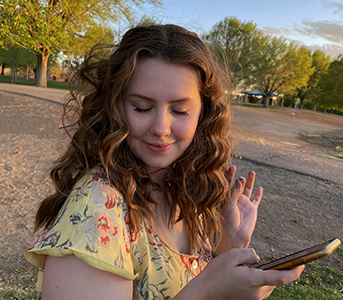 CLASS OF 2021
Myah Wilmarth
"Life moves pretty fast. If you don't stop and look around once in a while, you could miss it."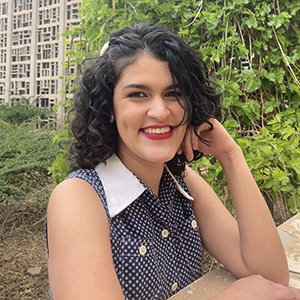 CLASS OF 2021
Carol Stringer
"I may have flopped my way onto the finish line instead of actually crossing it, but I made it all the way here in one piece."
CLASS OF 2021
Consuelo Ortiz
"My time here at UNM has been a journey that I will never forget. I have not only been able to experience college life at a university that is near and dear to my heart, but I have also been able to achieve this great accomplishment of graduating. Here's to the years that I will always cherish."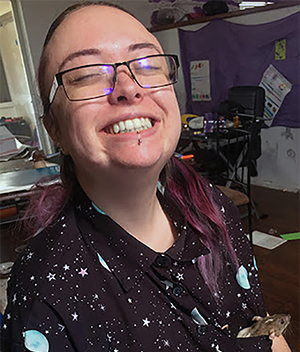 CLASS OF 2021
Ren Schabert
"You could be great. You could rattle the stars. You could do anything, if you only dared." – Sarah J. Maas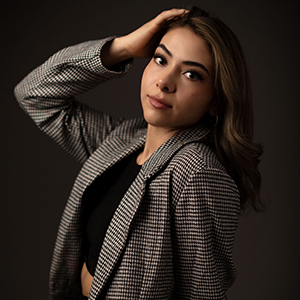 CLASS OF 2021
Evelyn Mendoza
"Decide what you want. Declare it to the world. See yourself winning. And remember that if you are persistent as well as patient, you can get whatever you seek." – Misty Copeland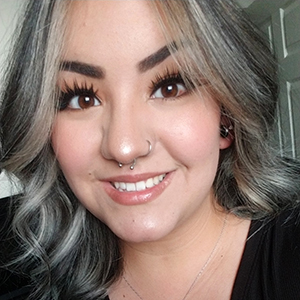 CLASS OF 2021
Samantha Mendez
"It took me five years but I'm proud to say I did it! I'm so grateful to have had this experience as a first generation student and set an for my siblings. Thank you to my family, friends, mentors, cat, and coffee for supporting me through the craziest years of my life. Mask up, stay safe, and GO LOBOS!"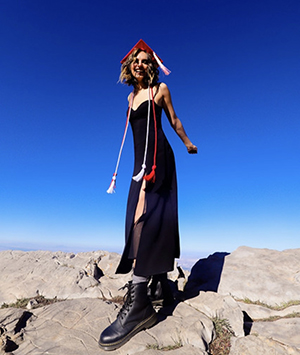 CLASS OF 2021
Natalie Bonelli
"Justice and equality begin in the classroom"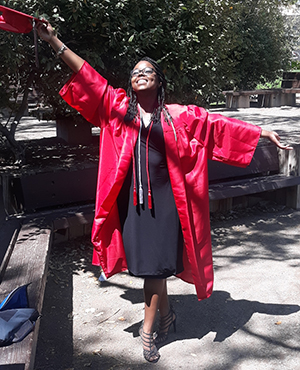 CLASS OF 2021
Remy Sinegal
"College is about learning; educationally, socially with relationships, and learning when to ask for help. It is a community experience where you need to rely on others at times and sometimes, you're the one others need help from. So even if it wasn't always easy, I am glad to have experienced it."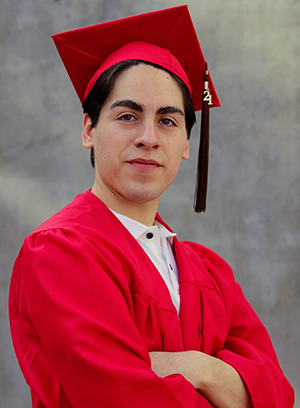 CLASS OF 2021
Jerome Sena
"I will always cherish my time at UNM! It was a time of growth, self-discovery, and learning. A huge thank you to my family for their continued love & support! I can't wait to see what's next!"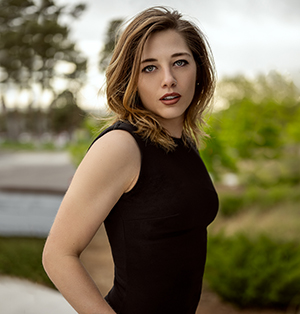 CLASS OF 2021
Megan A. Kamauoha
"Don't be discouraged by a failure. It can be a positive experience. Failure is, in a sense, the highway to success, inasmuch as every discovery of what is false leads us to seek earnestly after what is true… (John Keats)"
CLASS OF 2021
Agustin Arredondo
"Learn the rules like a professional, so you can break them like an artist" – Pablo Picasso
CLASS OF 2021
Aidan Ashley
I would like to thank the faculty and students for their contributions to my fine art education. I will cherish the experience in my pursuit of finding my art. For my family and friends, thank you for your complete support these past many years. 
Taƞyáƞ akhé waƞčhíyaƞkiƞ kte. (I will see you again, in a good way.)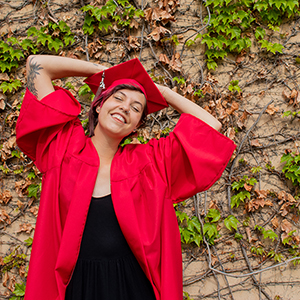 CLASS OF 2021
Wanashe Frank
"Being a student at the University of New Mexico has brought me so many opportunities, reasons to continue my education, and carry on pushing myself as an artist. Being a part of the Theatre and Fine Arts departments has helped me get to a higher point of professionalism as an artist and continue to dream for bigger things."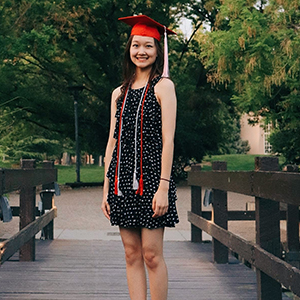 CLASS OF 2021
Esther Han
"Finally, brothers and sisters, whatever is true, whatever is noble, whatever is right, whatever is pure, whatever is lovely, whatever is admirable – if anything is excellent or praiseworthy – think about such things."
                  – Philippians 4:8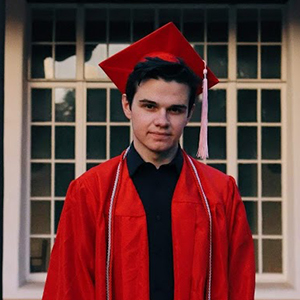 CLASS OF 2021
Andreas Landstedt
"Blessed is the man who remains steadfast under trial, for when he has stood the test he will receive the crown of life, which God has promised to those who love him."
                                                                     – James 1:12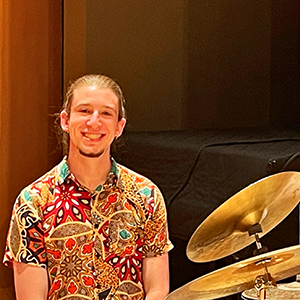 CLASS OF 2021
Shane Corwin
"What a long, strange trip it's been."
The Donald McRae Award for Outstanding Senior Winners Spring 2021
Donald McRae was Dean of the College of Fine Arts from 1978 to 1986. The award recognizes one outstanding senior student from each department and the IFDM program, and selects one winner from these candidates for the McRae award. Students are selected based on academics, service to the college and university, contributions to the arts, and an interview process. The award has continued to recognize outstanding students with support from the McRae family.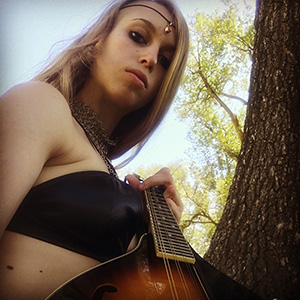 Kira Gone
Department of Art
Kira Gone is a Studio Arts Major with a focus in drawing, small-scale metal sculpture, and performance arts. Her work explores femininity and female lived experience through the lens of folklore and often includes the use of mythical archetypes and plant or animal elements. Outside of the University, Gone has performed with the Albuquerque-based band Da Terra Meiga and has toured with them in the U.S. and in Galicia, Spain. After graduation, Gone hopes to continue finding new ways to experience and to help connect different artistic communities as they heal from the Covid-19 pandemic.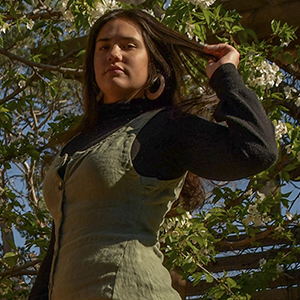 Isabel Tafoya
Interdisciplinary Arts
Isabel Tafoya grew up on a ranch in Northern New Mexico was filled with elements of culture need to be explored; where magic, God and responsibility are intertwined. Who I am, is a question requiring continual investigation? Art acts a prism allowing Isabel to see the many facets of life so that she can make sense of the world around her; it is not a singular lens with a singular answer. Isabel focuses on who we are internally, where we fit into the world and why day-to-day experience matters. Photography is how she evaluates topics that feel complicated or overwhelming. Her experience in theater and photography allows her to use lighting, costuming, and staging in a way that highlights these mundane moments and feelings in a dramatic, colorful way.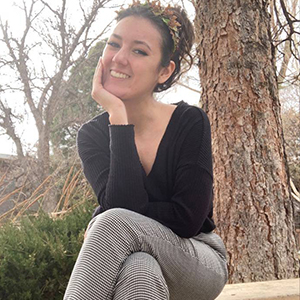 Jenna Lee Ramsay
Department of Theatre & Dance
Jenna Lee Ramsay, a goal Jenna Lee made for herself when she transferred to UNM Fall of 2019 was to be involved as much as possible within the department of theatre and dance. Her favorite project she has worked on was directing the Spring 2020 SCRAP Productions show, Juicy and Delicious. In addition to directing for stage, she enjoys shadow puppetry as well as full-view manipulation puppetry. After graduating, Jenna Lee wants to work towards starting her own theatre company focused on experimental performance, based on a foundation of love while encouraging genuine human connection.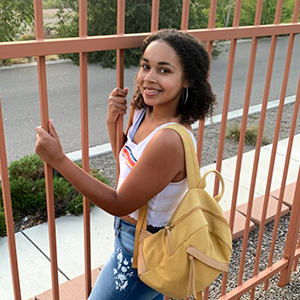 Stevanna G. Allen
Department of Film & Digital Arts
Stevanna G. Allen is graduating with a BA in Film and Digital Arts' Animation concentration with a designation from the Honors College. Growing up as a military brat, Stevanna considers the world to be her home. During her time at UNM, she hosted the Film and Digital Arts Virtual Cafe and worked at the FDA Equipment Cage, becoming a familiar face to everyone. Her plans after graduation include working as an animator/lead game designer in the video game industry and developing her own games independently.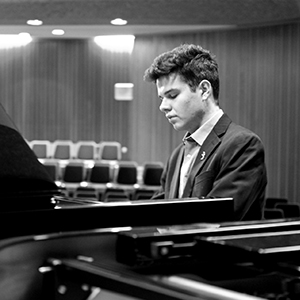 Andreas Landstedt
Department of Music
Andreas Landstedt is an aspiring professional pianist completing his undergraduate degree in Piano Performance under Prof. Falko Steinbach. He has won several competitions in his home state of New Mexico, performed with the New Mexico Philharmonic, and has studied and performed in festivals in Germany and Italy; he also pursues collaborative efforts through solo and instrumental accompanying, student ensembles, small opera troupes, and the UNM Wind Symphony. Landstedt has maintained a 4.0+ GPA in his time at UNM, and was awarded the honor of Presser Scholar of the UNM Music Department in 2020, prior to his senior year. He will continue studying under Professor Steinbach for the 2021-2022 academic year to achieve the Graduate Performance Certificate at UNM, during which time he will seek opportunities for graduate-level programs in piano performance beginning in the Fall of 2022.
Covington-Rhode Senior Prize Winners Spring 2021
The Covington-Rhode Senior Prize in Art at The University of New Mexico recognizes outstanding achievement of our undergraduate art students during their senior year, to promote professionalism and excellence in the visual arts, and motivate and encourage all art students to achieve their fullest potential throughout their years in the program. It's a competitive award for graduating seniors earning a degree in Art exhibiting their artwork and participating in a professional evaluation. The Covington-Rhode Prize was established in 2018 by Patricia Covington and Shari Rhode. Dr. Covington earned two degrees, a BA in Art and a BA in Anthropology from the University of New Mexico in 1968.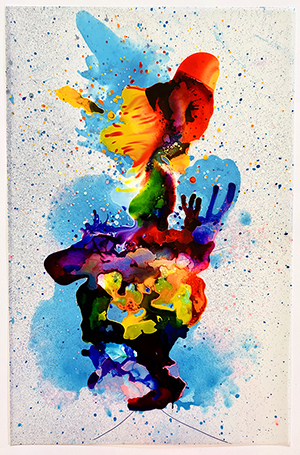 Ashleigh Abbott
Observations of gender interaction around the world inspire my work. I explore ideas of transformation and female sexuality as it existed before judgement and the pressures of societal mores. My personal history touches each piece before I tie it to a greater cultural context through coded color, iconic cartoons, branded imagery and mythological figures. With every material I choose I strive to evoke familiarity and intimacy with the viewer while creating an unexpected openness of emotional space that illuminates the potential for freedom we have today. I make this work to bring the viewer into a space they can feel, to know they have options.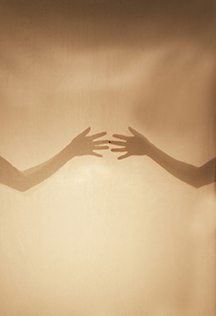 Lacey Chrisco
Through my art practice I seek the sublime within the mundane, ironies and paradoxes, the profane and the profound. I hope to disrupt the ways we are accustomed to experiencing the world and suggest that there is opportunity for uplift, transformation, and contemplation in our quotidian existence. I am interested in photography's ability to subvert our expectations of it. Using the camera, I describe subjects that exist beyond the surfaces depicted. I wish to suggest that our perception of the world is fluid and expansive and surfaces only exist because there is substance below.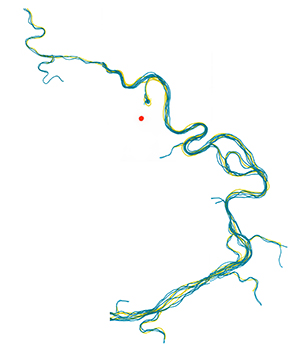 Katherine Conley
Katie Conley is from Charleston, South Carolina. Using personal and historic objects, photographs of home, children, craft supplies, and historic indigo dye processes, she reevaluates her memories of home from an evolving perspective. Surroundings change and people come and go, but the idea of what remains fascinates her. Amidst changes, Katie considers the ways she has been impacted by the places and people left behind. What is salvageable? And what can never be recovered? What stains remain? Katie' s work explores the evolution of our memories and histories — tainted and obscured by the meanings we give them.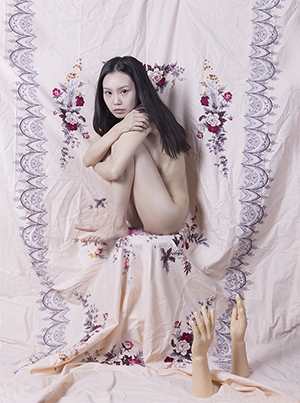 Jiayi Liang
Though currently immersed in the foreign country of the United States, I was inspired by the experiences and influence of her childhood cultural environment while growing up in China. My work in photography, installation, video, and performance art, uses the body as the main subject in exploring traumatic memories, self-identity, mainstream culture, and limitations of language. Utilizing the body throughout different works as canvas, medium, and subject, I explore how these theories can manifest as a tool of expression within the practice of contemporary art in society.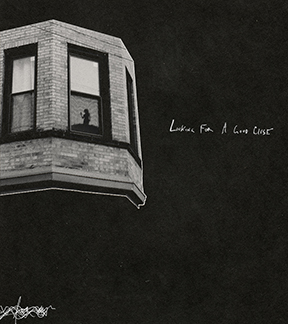 Sergio Stryker
Sergio Stryker is a visual artist born and raised in Chicago, IL, and now based in Albuquerque, New Mexico. Sergio's practice investigates the politics of image making. Sergio is interested in making work that blurs the line between fact and fiction. Often with a tongue in cheek delivery, Sergio asks his viewer to question the validity of any singular voice in image making. His work often references the history of photography while taking into account the contemporary concerns that surround the medium.
Department of Film & Digital Arts Award Winner Spring 2021
The Gus Blaisdell Memorial Award in Critical and Creative Writing – Beloved faculty member Gus Blaisdell encouraged and appreciated original and incisive prose, and the prize that bears his name is awarded to a student whose writing meets his high standards.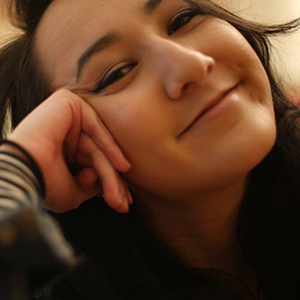 Gus Blaisdell Memorial Award in Critical and Creative Writing - Shannon Shimada
Shannon Shimada is graduating with a Bachelor of Arts in Film and Digital Arts with an emphasis in Film History and Criticism. Throughout her time at UNM, she has focused her work on intersectionality both on screen and behind the camera, prioritizing issues such as race, gender, and class within the film industry. With her degree, she hopes to continue this work through her writing by expanding the boundaries of film and film engagement towards accessibility, inclusivity, and intersectionality. Although mainly working within critical and creative writing, she engages in a wide variety of artistic mediums and hopes to foster an exchange between them as she moves forward.
Department of Music Award Winners Spring 2021
Theodore Presser Scholarship – The Presser Undergraduate Scholar Award is awarded annually to an outstanding music major at or near the end of his or her junior year. The award is based on merit and achievement and is intended to recognize excellence. This year's recipient is Megan Gleason. 
Outstanding Music Education Student – Natalie Bonelli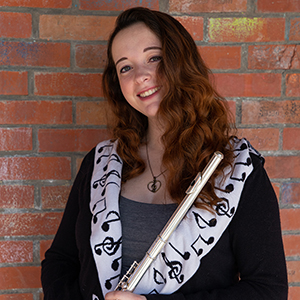 Theodore Presser Scholarship - Megan Gleason
Megan Gleason is currently a junior at the University of New Mexico. She is majoring in music performance, minoring in communications and journalism, and pursuing an honors designation. As an out of state student from Las Vegas, Nevada, Megan traveled to Albuquerque to study flute under Valerie Potter. Megan has been studying the flute for ten years and also plays the piccolo. She hopes to set up a private flute studio after graduating. Megan is currently a member of the UNM Wind Symphony. Previously, Megan was the principal flautist for the UNM Symphonic Band for three and a half years. Megan is the flautist of the UNM Canyon Winds Quintet, and has been for three years. She recently had her junior flute recital, with pieces by CPE Bach, Ransom Wilson, and more. Outside of her music studies, Megan is the Editor-in-Chief of the New Mexico Daily Lobo after previously working as the news editor and the culture editor. Megan is looking forward to a post-pandemic world with in-person music again and is working on her senior flute recital for next year, as well as summer music workshops.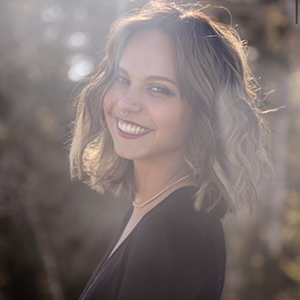 Outstanding Music Education Student - Natalie Bonelli
Though having dropped the accent years back, Natalie is from Long Island, New York and moved to New Mexico in high school. It was there that she furthered her love for performing and began noticing the art in teaching and interacting with people through music. After committing to UNM, she found a passion in diversity and advocacy within the four walls of a classroom. In teaching for the NM Philharmonic Young Musician Initiative program, Natalie has premiered inclusive elementary compositions in an effort to expose, educate, and diversify. After graduating, Natalie will continue to teach in New Mexico and bring her cat to every class possible. The support from the educators in the music department is nothing short of magical, and Natalie was able to find her voice through them. Through 2020, not much has remained certain, but Natalie's passion for music education has only strengthened.