Australian scholar will teach spring 2024
Naomi Sunderland, professor and Australian Research Council Fellow at Griffith University in Queensland, Australia, is coming to The University of New Mexico as an Australian Fulbright Senior Scholar Spring of 2024. She will teach in the Music department and conduct research on international community music responses to collective trauma.
Sunderland is a member of the Creative Arts Research Institute and School of Health Sciences and Social Work at Griffith University. She has a Ph.D. in applied ethics and human rights from the Queensland University of Technology.
She specializes in arts-inclusive, anti-oppressive, and trauma sensitive research and teaching approaches. A descendant of mixed European and Wiradjuri First Nations heritage, her research matters range from arts-health and well-being to First Nations social justice. Her published works primarily center around health determinants and associated health, wellbeing, and healing in First Nations and other communities that experience social oppression or exclusion. Sunderland was awarded an Australian Research Council Fellowship (2021-2024) to study the effect of First Nations' music on social and cultural determinants of health.
Sunderland sees opportunity to engage with American colleagues via Fulbright exchange. Each method will support mutual learning about First Nations-led solutions to collective trauma and associated health inequality. Additionally, Sunderland will collaborate with her colleagues on a community building project that incorporates narrative and the performing arts to give First Nations and other people who experience collective trauma and oppression a means to address the personal and social forces that shape their lives and identities and empower them to transform their communities through performances on social issues most significant to them.
Sunderland will conduct the project and teach alongside Fulbright faculty host and Fulbright Scholar (US-Italy 2019-2020) Kristina Jacobsen, associate professor of Ethnomusicology and Anthropology and Coordinator of the Songwriting Focus Area. Her research has taken her to Sardinia, South Africa, and the Navajo Nation. Jacobsen is course convenor for a UNM course "Songs for Social Justice" and program coordinator for the Prison Song Project: Community Building through Cowriting.
"We are thrilled to be hosting a scholar and artist with the breadth of skill sets, experience and research profile that Dr. Sunderland has, including her important work on music and songwriting as social determinants of health," Jacobsen said. "While at UNM, we are hoping to create as rich a network of artists and scholars at UNM for her to connect with as possible in order to support both her research, her teaching and her connection to New Mexico and the Southwest."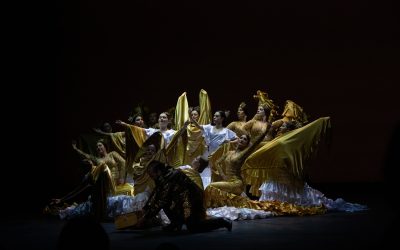 By Lilly Porter, October 30, 2023The National Institute of Flamenco (NIF) invites you to immerse yourself in a joyful and vibrant world of flamenco dance and music, villancicos – Spanish Christmas carols – Escuela Bolera, Spanish Folkdance, and African Dance. La...