Announcing ARTSSPLASH 2023 hosted by The UNM College of Fine Arts
Albuquerque, NM – Harris Smith, Dean of the College of Fine Arts at The University of New Mexico, announces the second annual ARTSSPLASH event on Wednesday, Sept. 27. ARTSSSPLASH 2023 will celebrate Fine Arts at UNM and raise awareness about the various programs within the college. The event will take place on the east side of the Student Union Building, on the Cornell Mall from 11am to 2pm, with live performances from the Department of Theatre & Dance and Department of Music from 12pm to 1:00pm. Activities include department booths, prizes, food trucks, and a chance to earn an ARTSSPLASH 2023 t-shirt.
Performances will include the Flamenco Program, a true gem of the Department of Theatre & Dance at UNM, which offers the only concentration in Flamenco in the nation. Get to know the powerful traditional and historical dance originating in Spain alongside your creative community members.
Explore UNM Fine Arts and receive an ARTSSPLASH 2023 t-shirt by getting your ARTSSPLASH Passport stamped at departmental booths. Each booth will have information, materials, and activities from CFA units such as the Department of Art, CFA Advisement, Department of Film & Digital Arts, Department of Music, and Department of Theatre & Dance, along with ARTSLab, the UNM Art Museum, Tamarind Institute, ALBS (Arts Leadership & Business), BAIA (Bachelors of Arts in Interdisciplinary Arts), Student Clubs, and more! Also, get the latest update on the new Fine Arts building, CCAT, the Center for Collaborative Arts and Technology.
Food trucks will include Tikka Spice, With Love Waffles, Bing Tea, and Gourmet Doner Kebab.
Please contact us at (505) 277 – 2112 or fineartsdean@unm.edu for additional information or to book an interview time with Harris Smith, Dean of the College of Fine Arts at The University of New Mexico.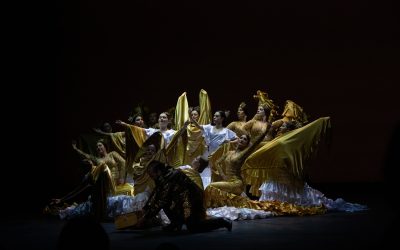 By Lilly Porter, October 30, 2023The National Institute of Flamenco (NIF) invites you to immerse yourself in a joyful and vibrant world of flamenco dance and music, villancicos – Spanish Christmas carols – Escuela Bolera, Spanish Folkdance, and African Dance. La...