Andrea Polli wins award for community-engaged art projects
Andrea Polli wins award for community-engaged art projects
New project lights up Albuquerque downtown nights
By Mary Beth King
Art installations created by Andrea Polli, a University of New Mexico professor of Art and associate professor of Engineering, and her team at the Social Media Workgroup, shine. Literally. Polli is known for her interdisciplinary work that melds art, data, science, and technology into media installations and community projects.
Her latest creation is located in downtown Albuquerque for a project called City Bright. The project was created and funded by the City of Albuquerque's Temporary Public Art program and gives local artists the chance to light up downtown this fall and winter. The installation Polli and her researchers created is called The Game of Life. The interactive game is in front of The Box Performance Space at 114 Gold Ave. SW in downtown Albuquerque and is expected to be up through December.
"I admire Dr. Polli's deep environmental concern and her dedication to investigating climate change and sustainability issues… She is able to create artwork that engages, educates and inspires people to consider that we are all in this together." – Associate Dean of Faculty and Research Mary Tsiongas.
"The Game of Life is an interactive light artwork that animates in real time based on mathematician John Conway's famous computer simulation by the same name. The Game of Life illustrates properties of cooperative living systems in real time. Conway's game of life illustrates how complexity can evolve from a simple set of rules. In this artwork, light represents life in a cooperative system and audiences intervene in this system in order to create or destroy sustainability," according to the project proposal.
For the entire article:  http://news.unm.edu/news/andrea-polli-wins-award-for-community-engaged-art-projects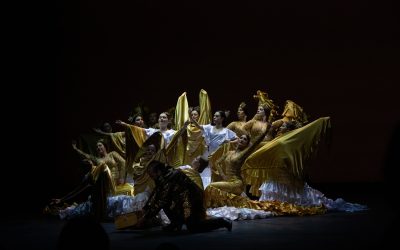 By Lilly Porter, October 30, 2023The National Institute of Flamenco (NIF) invites you to immerse yourself in a joyful and vibrant world of flamenco dance and music, villancicos – Spanish Christmas carols – Escuela Bolera, Spanish Folkdance, and African Dance. La...