A Farewell to Winds: An Interview with Keith Lemmons
Professor of Clarinet
Keith Lemmons has been teaching music here at the university since 1984. Retiring this spring, the former UNM Teacher of the Year discusses a prodigious career in music, and his farewell UNM performance
You went to college and grad school in the Midwest, and your career has taken you around the world, what brought you here to the Southwest?
I was teaching at Minnesota State University-Moorhead in 1983 and the University of New Mexico position was advertised. I applied, interviewed and happily I was offered the position. At Minnesota State I taught clarinet, saxophone, flute, and conducted the Symphonic Band. The UNM position was for teaching only clarinet and saxophone, and I wanted to specialize on these instruments, and you can only do that at large academic institutions. My young family at the time were also very happy to move to a warmer climate, large city, and state known for the arts.
So, what is it about Albuquerque and UNM that has kept you here since 1984?
There is so much to do and see in Albuquerque. Albuquerque was a wonderful place to raise my two children, who are both UNM graduates. I had previously taught at three small universities before arriving at UNM and found the quality of my undergraduate and graduate students were
exceptional. During my 33 years at UNM the music school has attracted more and more graduate students. I have been most fortunate to have taught a wealth of gifted students that are just as talented as any university music student in the United States.
With your distinguished career as a performer and educator, you have influenced a lot of lives, who were those people for you?
My most important mentor was my undergraduate teacher, Mr. Robert Schott at Pittsburg State University in Kansas. He was a gifted performer on clarinet, saxophone and flute and was so giving of his time and knowledge. My teaching has always emulated his style, manner and high standards. My next important influence was Elsa Ludewig-Verdehr at Michigan State University. Michigan State has always been know as a "clarinet" school and I was blessed to have been accepted there. Elsa Verdehr is an icon in the clarinet world and one of the most virtuosic performers and demanding teachers. Her impact on my career and teaching is immeasurable.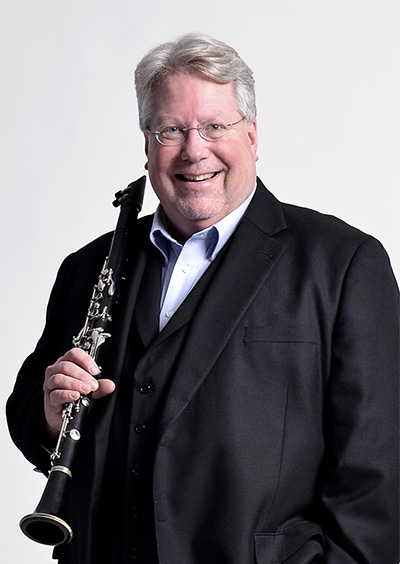 Is it more rewarding for you to teach or to perform?
Both are equally rewarding. I love teaching students of varying levels and then see the fruits of their labors. Students keep me on my toes and I think also keep me young. I am still learning from each of them. Performing and collaborating brings joy and fulfillment to my soul. It is a lot of effort and practice but it is has always been a necessary constant in my life.
What is your proudest moment as a performer? What about as an educator?
The proudest moment was just last summer at the 2016 International Clarinet Festival. I was an invited solo artist and performed one of the most difficult Clarinet Sonatas composed by Max Reger. My 80-year-old teacher, Elsa Verdehr was in the audience, as was my family. Before I performed I was able to graciously speak about my undergraduate and graduate teachers and dedicate the performance to each of them ending with a sustained standing ovation.
What do you think has changed the most about a career as a professional musician from when you were an undergrad to today in 2017?
Today there are so many talented and gifted musicians and the competition for the jobs and gigs is severe. The competition to be a college teacher now requires a doctorate for any tenure track university position. Education is also much more expensive which becomes a huge burden
on students. There are fewer jobs available for musicians to make a respectable living.
What advice would you give to an aspiring young musician who is passionate about a career in music?
Practice, practice, practice. Make yourself competitive. Play more than one instrument, become an entrepreneur, market yourself correctly, and never give up hope.
Is there a particular memory or moment when you realized that music was your calling? Who or what influenced you at an early age?
My parents believed the arts were very important. Classical music was on the radio 24/7 in my house. My brothers and sister all played piano and an instrument. My instrument was the clarinet. I loved it from the moment I started in the 6th grade. I loved band. My junior high school and high school band directors were huge influences.
What led you to Woodwinds? Did you always play Sax and Clarinet?
I did the woodwinds in college because of my undergraduate teacher, Robert Schott. He was a virtuoso on the clarinet, saxophone and flute. I studied clarinet for 2 years with him as a high school student then continued with him in college. For four years in undergrad I saw him four days a week. I had two clarinet lessons a week, in addition to a flute lesson and saxophone lesson. At Michigan State University I received a Masters of Music Clarinet Performance degree with a Woodwind Specialist major. My first college teaching job was at Alma College in Michigan teaching all the woodwinds (clarinet, saxophone flute, oboe and bassoon)
What do you consider the greatest strengths of the department and program here at UNM?
The strengths of the music department are the international and nationally known faculty.
Each faculty member is distinguished as an educator and performer. The bands, orchestra, and choirs are recognized and acclaimed nationally. This is a credit to the quality of students at UNM and the faculty. The music performance and music education programs are also acclaimed both at the undergraduate and graduate levels.
How have you seen the music scene evolve in Albuquerque over the years?
Albuquerque is a vibrant place. Unfortunately the classical music scene (the NM Symphony, NM Philharmonic, etc.) have all struggled. It is tragic the financial support continues to be so difficult.
Is there a piece of music that you could never tire of and love to perform, or if you were to choose one piece to play, at an open-mic night for the world, what would it be?
Wolfgang Amadeus Mozart, Quintet in A Major for clarinet and strings quartet, K. 581
What is your favorite local venue, ( besides Keller Hall of course ), to perform or watch music?
Popejoy Hall.
Are there any stereotypes about woodwind players that everyone else in the orchestra thinks and are they true?
No comment. Ha!
Who are the musicians, living or dead, that you wish you could have collaborated with?
Harold Wright, Principal clarinet in Boston Symphony (deceased)
Yo Yo Ma, internationally known cello soloist
Jon Nakamasu, internationally known piano artist
Renee Fleming, reknowned soprano soloist
Berlin Philharmonic
Now that you're retiring, what are you looking forward to the most?
Being with my new granddaughter in Denver, and performing more with my groups Serenata of Santa Fe, Taos Chamber Music Group, and Montage Society.
What is the message and sentiment that you hope to impart with this final performance at UNM?
It has been a great ride!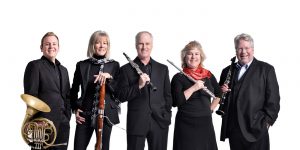 The Department of Music Artist Faculty Ensemble-in-Residence, the New Mexico Winds, will present a farewell recital with Associate Dean Keith Lemmons-clarinet, featuring music by John Harbison, Andre Szervansky and Maurice Ravel. Members include, Valerie Potter, flute; Kevin Vigneau, oboe, Denise Reig Turner, bassoon and Michael Walker, horn.
Wednesday, April 12th, 7:30pm
Keller Hall
$12 • $10 • $5 via unmtickets.com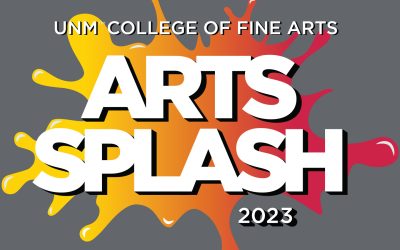 Announcing ARTSSPLASH 2023 hosted by The UNM College of Fine Arts Albuquerque, NM – Harris Smith, Dean of the College of Fine Arts at The University of New Mexico, announces the second annual ARTSSPLASH event on Wednesday, Sept. 27. ARTSSSPLASH 2023 will celebrate...