Watch: ArtsUnexpected 2019
ArtsUnexpected 2019
ArtsUnexpected was an all day and evening arts extravaganza at various locations on the UNM campus, surrounding community and in downtown Albuquerque. Check out this year's video to give you an idea of what you missed. Past year's the weather had given our students some unexpected challenges but that is all a part of what makes this day full of surprises.
This year was a beautiful day. In its 6th year, it continues to showcase the talented students of the College of Fine Arts. A sincere thank you to all participants of the 2019 ArtsUnexcepted event.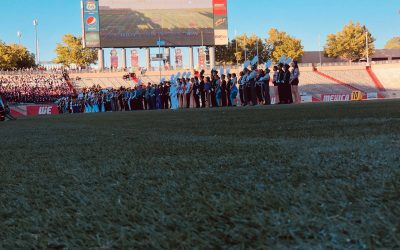 The Zia Marching Band Fiesta 2019 was held on Saturday, October 19, with more than 15,000 in attendance on a perfect fall day at the Dreamstyle Stadium. This is one of the most prestigious marching band events in the Southwest. It featured 26 high school bands from...