Announcing the 2019-2020 Fulcrum Fund Recipients!
Two former UNM MFA grads of our Experimental Art and Technology are 2019-2020 Fulcrum Fund Recipients!
The Fulcrum Fund, now in its fourth year, is a grant program developed and administered by 516 ARTS as a partner in the Regional Regranting Program of The Andy Warhol Foundation for the Visual Arts. Since its inception in 2016, the program has awarded $230,000 to 45 art projects and serves as an essential support structure for artists to expand existing work and pivot in new directions. It is intended to be a springboard for artistic processes that are experimental and forward-thinking and supports projects that may not fit into traditional museum and gallery systems.
Each year, guest jurors from across the country make the award selections. 516 ARTS bring in respected national curators, museum directors, art professionals, and artists to evaluate the proposals and make the decisions. This year's jurors were: Evan Garza, Director Rice Public Art, Houston TX; Mónica Ramírez-Montagut, Director Newcomb Art Museum, Tulane University, New Orleans, LA; and Imin Yeh, Artist & Assistant Professor of Art, Carnegie Mellon University, Pittsburgh, PA. The applicants were from 12 cities within an 80-mile radius of Albuquerque. The following two artists proposals were selected from a total of 114 submitted:
Ayrton Chapman, Los Lunas • Edible Carnival • $5,000
Ayrton Chapman, was born in East Texas. She studied photography at UNT in Denton where she branched off from photography to other media. She moved to Albuquerque where she completed her MFA in Experimental Art and Technology from the University of New Mexico College of Fine Arts.
Her "Edible Carnival" is a techno-grotesque traveling eco spectacle that creates and tours interactive sculptures and performances that delight and educate. Carnival Games is a new series of smaller works designed to be portable and installable anywhere. Funding will go towards the development of a new line of games based on classic favorites with a twist and will explore ecology, food production, and power systems.
Ruben Olguin, Bernalillo • Past Futures • $6,000
Ruben Olguin, a New Mexico based artist working in ceramics, adobe, sound, video, and electronic media. His work draws from his mixed Pueblo and Spanish heritage. He uses traditional/hand processes for sculpture and incorporates electronic elements. "My practice focuses on spending as much time in the desert as in the computer lab". His work has exhibited internationally, showing in Germany, Miami, Santa Fe, and Taos. Olguin completed an MFA in studio arts from the University of New Mexico College of Fine Arts. Mexico in 2015, and a BA in Cinematic Arts from The University of New Mexico in 2012. His goals are to make and teach new media art along with socially engaged art practices.
Using archival imagery, histories and maps of the South Valley and Barela's neighborhoods Olguin lead the creation and presentation of 2 public exhibition video mapping and sound performance events. The project will work with local student organizations to create performative events at sites throughout Albuquerque, as well as the production of digital artworks of sound, video, which incorporate maps, media, and documentation about the histories and contributions of people of color to the Albuquerque area.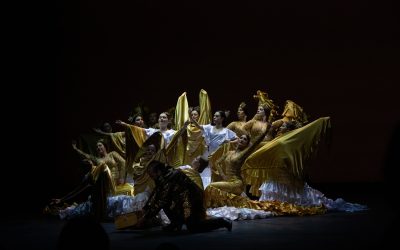 By Lilly Porter, October 30, 2023The National Institute of Flamenco (NIF) invites you to immerse yourself in a joyful and vibrant world of flamenco dance and music, villancicos – Spanish Christmas carols – Escuela Bolera, Spanish Folkdance, and African Dance. La...