The Promising Artist Awards' Event is Thursday, March 24, 2022.
University of New Mexico, Fine Arts is thrilled to announce our Spring 2022 Promising Artist Awards (PAA) event will be held in-person on March 24, 2022. Starting at 9:30 am at UNM's main campus in the Center for the Arts building #62. This event is by invitation only. Submissions for the 2022 Promising Artist Award are closed. Please return next January for the 2023 Promising Artist Award submission details.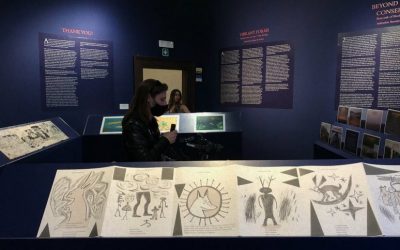 A team from The University of New Mexico created a project titled. "a Library, a Classroom, and the World", which is currently on display at the prestigious 2022 Venice Biennial Art exhibition Personal Structures organized and hosted by the European Cultural Centre...
Experience The Arts!
In addition to our scholarly pursuits, the College of Fine Arts is also a dynamic visual & performing arts center for the burgeoning arts community of Albuquerque.
Produced by our creative students and faculty, the College of Fine Arts proudly presents over 300 public performances, exhibitions, installations & art discussions annually.
Contact the College of Fine Arts
Academic Advisement
The College of Fine Arts Student Success & Advisement Center is committed to serve the UNM community with compassion, guidance, and respect as we promote academic excellence.
To speak with a CFA advisor, please call (505) 277-4817.