Matthew Forte
Director of Orchestral Studies / Assistant Professor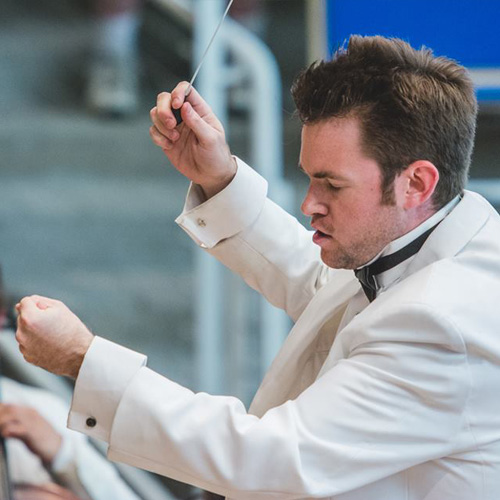 Matthew Forte
Director of Orchestral Studies
Assistant Professor
D.M.A, Michigan State University
forte@unm.edu
Center for the Arts Room 2110
Curriculum Vitae
Matthew Forte is Director of Orchestral Studies at the University of New Mexico, where he supervises all aspects of the institution's orchestral program, conducts the University of New Mexico Symphony Orchestra, and teaches graduate and undergraduate conducting. In the summer months, Matthew works with young musicians at Sitka Fine Arts Camp, in Sitka, Alaska, one of the most prestigious preparatory music camps in the United States. He likewise maintains an active association with the Aspen Music Festival and School, where he collaborates frequently with the AMFS Department of Education and has served as guest faculty since 2016.
Prior to his appointment in New Mexico, Matthew was Director of Orchestral Studies at the University of Toledo, where, in a three-year tenure, he more than doubled the size of the University of Toledo Symphony Orchestra, increasing that ensemble's artistic standards and its visibility throughout the midwestern United States. Concurrent to this post, Matthew served on the conducting staff of the Toledo Symphony –where his primary duties were as a conductor of the Toledo Symphony Youth Orchestras– and as one of the conductors of the Greater Toledo International Youth Orchestra –an organization with which he began an initiative to bring chamber orchestra music to diverse and underserved communities in northwest Ohio.
Matthew has collaborated with performing arts and educational institutions throughout the U.S.: he has served as cover conductor of the St. Louis Symphony, served on the faculty of Grand Valley State University, and, as a composer, has had works premiered by Glass City Singers, Musique 21 and the Pittsburgh New Music Ensemble, among others. He is likewise in regular demand as a clinician and teacher of young musicians throughout the country.
He received his Bachelor's degree, summa cum laude, from the Hartt School of the University of Hartford, where, upon graduation, he received the Belle K Ribicoff Prize for academic excellence; his master's and doctoral degrees were earned at Michigan State University, where he was a Rasmussen Fellow and served as music director of the Michigan State University Concert Orchestra, work for which he received the 2017 MSU Distinguished Teaching Citation.