Kevin Vigneau
Professor of Oboe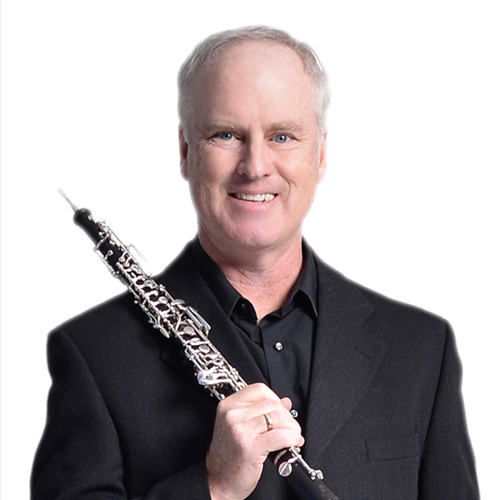 Dr. Kevin Vigneau is Professor of Oboe and Graduate Coordinator for the Department of Music at UNM. He is also principal oboe of the New Mexico Philharmonic and the Santa Fe Pro Musica.
Mr. Vigneau is a founding member of the New Mexico Winds. As a chamber musician he has performed with Music from Angel Fire, the Santa Fe Chamber Music Festival, the Banff Festival, for the South African Broadcasting Society, the Mistral Wind Quintet, and the Kandinsky Trio. As a recitalist and soloist he has performed internationally in Brazil, Portugal, Canada, South Africa, Mexico, Holland, Germany and at many colleges and universities in the United States.
His solo CD Oboe on the Edge: Modern Masterworks for Oboe, was released in 2008 on Centaur Records. He has also recorded the Richard Strauss Oboe Concerto with the Orquestra Metropolitana de Lisboa for EMI Classics, the Hidas Oboe Concerto with the UNM Wind Symphony on the Summit label as well as with the New Mexico Winds for Centaur.
He holds a Doctor of Musical Arts from Yale University (1998) where he was awarded the Dean's Prize for the outstanding member of the graduating class. He studied with Ronald Roseman, Ralph Gomberg and Laurence Thorstenberg.
The Cape Times has referred to Dr. Vigneau as "a consummate instrumentalist, who brings to the task technical facility, abundant musicality and a keen intellect."
Further reviews include:
"The C Major Oboe Concerto followed, with Kevin Vigneau as soloist in a performance that was, quite simply, delicious….Vigneau revealed a beguiling playfulness and lightness of spirit ideal for Mozart. In pure tones and delicate phrasing he revealed the music's shadows as well as its sweetness. With nimble grace he repeatedly surprised, suddenly pulling back on a line to expose its tender underside, turning each cadenza into a little surprise."
– Albuquerque Journal
"Strauss' delicious Concerto for Oboe and Orchestra was given a superb performance by Kevin Vigneau, a musical event I have been looking forward to for weeks…sopranos could envy Vigneau his outstanding breath control and phrasing…he excelled in the rapid runs and never sacrificed music for virtuosity. He is so good he doesn't have to prove anything."
– Argus
"His dexterity was exemplary, intonation secure, tonguing effortless, breath supply limitless."
– Cape Times
"Oboist Kevin Vigneau was the star of this Tanglewood performance."
– The New Yorker
"…from the opening florid theme, Vigneau's tone was glorious, his phrasing impeccable. The long soaring lines of the Andante were matched with rapid figurations in the outer movements. A joyous performance well meriting the standing applause freely given to one of the NMSO's own."
– Albuquerque Journal