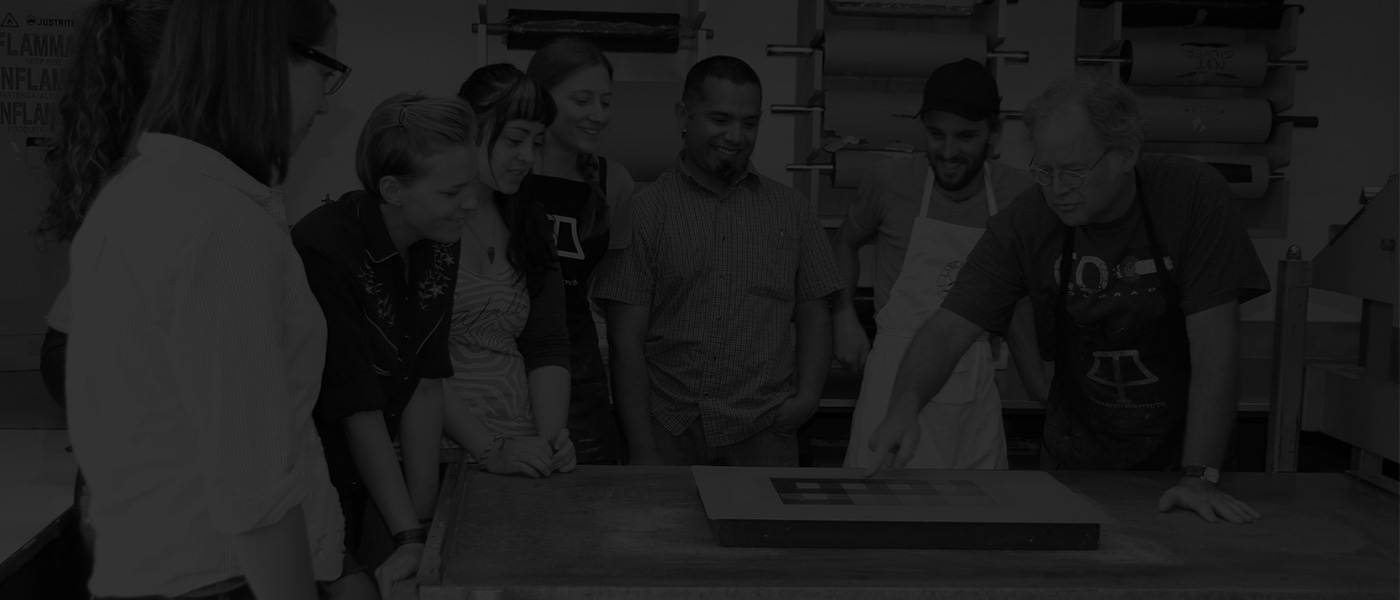 Tamarind Gallery
The public is invited to visit Tamarind's beautiful gallery space, located on the second floor at 2500 Central Avenue SE. The gallery hosts a range of exhibitions, most of which are focused on the fine art of lithography. The exhibition schedule is available online. The gallery is open Monday – Friday, 9 a.m. – 5 p.m.; admission is free, and parking is available in the lot on the south side of our building.
In addition to the gallery space, Tamarind lithographs are hanging throughout the second floor, and visitors are encouraged to wander through the hallways. Hundreds of lithographs by artists such as Jime Dine, Fritz Scholder, James Siena, Jaune Quick-to-See Smith, and many more, are available for purchase. To see a complete list of prints available for purchase, visit our visit our online inventory page.
Still curious about the process of creating an original lithograph? On the first Friday of each month, Tamarind hosts a public tour that includes information about the history of Tamarind and our current programs, a video on the collaborative process, and a printing demonstration in the workshop. Space is limited, so please call (505) 277-3901 or email us in advance to reserve a place. There is no charge for the tour.
More Information
Tamarind Institute Website >>>
Contact Tamarind
Tamarind Institute
2500 Central Avenue SE
Albuquerque, New Mexico 87106
Phone: (505) 277-3901
Fax: (505) 277-3920